Mixed results for Saakashvili in Germany
By Temuri Kiguradze
Thursday, June 26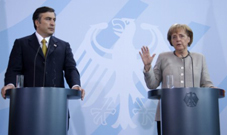 German Chancellor Angela Merkel said yesterday that Georgia will need to make progress with its separatist conflicts before it can fulfill its hopes of NATO membership.
After meeting with Georgian President Mikheil Saakashvili in Berlin, Merkel repeated earlier assurances that Georgia will join NATO, but said "there needs to be real progress regarding resolution of the conflict over the Georgian-Abkhazian line of separation," according to the Associated Press.
In turn, Saakashvili said Tbilisi is "realistic" about membership in the military alliance, and wants "concrete guidelines, concrete criteria" for joining.
The statements came after a series of meetings between Saakashvili and German officials. Merkel's signal that Berlin retains its objections to Georgian membership in NATO may frustrate the Saakashvili administration, but Georgia did win some political support in Germany.
Yesterday Merkel suggested that Germany shares Georgian alarm over recent Russian actions in Abkhazia.
"Like Georgia, Germany is concerned about the steps that have been taken by Russia," Merkel said.
And the German government backs a three-stage plan to cool tensions around separatist Abkhazia, which could include replacing the Russian-led peacekeeping force there, according to the Georgian president's website.
The plan first asks Russia to reverse moves to bolster ties with the separatist Abkhaz administration and withdraw the troops sent in April to reinforce its peacekeeping contingent. The second and third stages call for free economic zones in southern Abkhazia and a "political decision-making process."
It was the first meeting for the Georgian and German leaders since a NATO summit in April, when Georgia was denied a hoped-for roadmap to membership in the face of German and French opposition. Before the summit, Merkel also said, in starker language, that Georgia's two separatist conflicts would be a stumbling block to membership: "Countries that are embroiled in regional or internal conflicts cannot be members of NATO," she told a military conference in Berlin.
Georgian analysts say Germany blocked Georgia's membership bid out of wariness of upsetting Russia, which has clearly stated its opposition to Georgian and Ukrainian membership in the Western military alliance.
Soon after the summit, Russian Foreign Minister Sergey Lavrov said that "Russia will do everything not to let Ukraine and Georgia enter NATO."
At the summit, NATO ultimately issued a statement after much internal haggling which said Georgia and Ukraine would one day join the alliance, a promise Tbilisi welcomed as a political victory.
NATO officials have avoided making conflict resolution a precondition for Georgian membership, for fear of giving Russia, which has great influence in the conflict zones, a veto over membership into the alliance.
Georgian officials say Russia is materially and morally supporting the separatist administrations in breakaway Abkhazia and South Ossetia, where it leads a CIS peacekeeping mission. Russia says its peacekeepers prevent bloodshed between Georgian and separatist forces.