National TV station ends news broadcasts, may close
By Messenger Staff
Thursday, June 26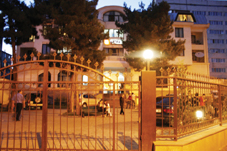 National television station Mze TV is ending its news broadcasts and may shut down altogether, station management said yesterday.
Following the surprise announcement, station employees gathered outside the channel's premises in central Tbilisi, waiting for more news.
"[The management] just told us that news service will stop from today, and they will decide what to do with the channel in two months," said one journalist, who asked to go unnamed because employees were instructed not to discuss the shutdown.
The journalist said financial problems were blamed for the changes.
Mze's presenters were still on-air last night, with no word of the impending end to their news broadcasts. An official announcement is expected today.
The television station is one of the more highly-watched national channels, but has lagged behind competitor Imedi TV and sister station Rustavi 2.
Mze and Rustavi 2 are both owned by Georgian Industrial Group and GeoMedia Group. Ruling party MP Davit Bezhuashvili has a stake in Georgian Industrial Group; the ownership of GeoMedia Group is not publicly known.
Mze is the second major station to stop its news broadcasts in the last year, after the demise of popular pro-opposition station Imedi TV.