None injured in blast near Russian checkpoint
By Temuri Kiguradze
Thursday, July 3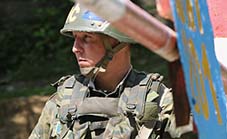 An explosion struck near a Russian checkpoint on the administrative border with Abkhazia yesterday. No one was injured in the blast, which Russian news agencies say happened on the Georgian side of the border.
The explosion went off at 8:00 a.m. local time, the Russian news agency Interfax reported, citing Alexander Novitskyi, a representative for the Russian peacekeepers' headquarters.
Novitskyi said a vehicle passed by a Georgian checkpoint near the administrative border, stopped short of the Russian checkpoint and tossed a presumed explosive device out of the car. After the blast, the car drove back past the Georgian checkpoint without being stopped, he said.
He blamed Georgian agents for the blast.
"Peacekeeping HQ command states its firm protest against the aggressive actions of the Georgian special forces [which are] directed towards the creation of tensions in the conflict region," Novitskyi said.
Tbilisi denied responsibility for the incident.
"We have no connections with blasts on the territory controlled by the separatists," said State Minister for Euro-Atlantic Integration Giorgi Baramidze at a briefing yesterday.
Mamuka Kurashvili, the commander of the Georgian peacekeepers in the conflict zones, told reporters Russia is trying to frame Georgia for attacks: "Today's explosion is a continuation of the blasts in Gagra and Sokhumi. Russia wants to create a Georgian trail for all these incidents."
Explosions hit the Abkhazian towns of Gagra and Sokhumi a day apart, on June 29 and 30, reportedly injuring more than a dozen people.
Georgian officials have alternatively blamed Russian special services, Russian criminal gangs and Abkhaz political infighting for the attacks. Abkhaz leaders accused Georgia of plotting the blasts to sabotage tourist season for the cash-strapped breakaway region, and closed the administrative border from July 1 in response.