More blasts in Abkhazia conflict zone
By Messenger Staff
Monday, July 7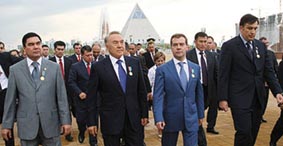 An Interior Ministry spokesman told Reuters the explosions came from landmines—one of which hit an investigating police car slightly wounding a policeman—on the Georgian side of the de facto border with separatist Abkhazia, which sealed the crossing point on July 1 after bomb blasts within the breakaway region reportedly injured more than a dozen civilians.
Georgian MP Shota Malashkhia, chair of a parliamentary committee on conflict issues, accused Russia of responsibility for yesterday's explosions.
Russian peacekeeping representatives pointed the finger the other way, saying Georgian reporters were on the scene improbably quickly after four blasts went off, and that they found shreds of a Georgian "commando" uniform, apparently wrapped around the bomb before the explosion, according to ITAR-TASS.
The explosions have tensions on a high after a run of violence, some deadly, around Abkhazia and South Ossetia. Georgian leaders say Russia is seeking to annex the territories and undermine attempts at peace, while Moscow and the separatist administrations accuse Georgia of plotting to retake the breakaway regions by force.
Over the weekend Georgian President Mikheil Saakashvili met in Astana with Russian counterpart Dmitry Medvedev, who "drew attention to the inadmissibility of escalating the situation in the region," according to the Kremlin's press service.
Tbilisi officials have accused Russia and separatist forces of orchestrating much of the violence in the last two weeks.
Late at night on July 4 shelling in breakaway South Ossetia killed two men, according to separatist authorities there. They say Georgian forces fired first; Tbilisi says it was responding to a separatist attack. More reports of shootings followed, with both sides disputing the circumstances.
After that incident the secretary general of the Council of Europe, among others, said he is "very concerned" and warned that even more serious violence may be near to hand.
"Even if, so far, we do not have a clear picture of what is happening and who is responsible, we know that people are being killed and injured, and that someone is sitting on a powder keg and playing with fire," said the statement on behalf of secretary general Terry Davis.
"Everyone with influence in that part of Georgia, including the governments in Tbilisi and Moscow, should do their utmost to prevent any further escalation. People in South Caucasus should not endure another war."
The deadly shelling came a day after gunmen set off a roadside bomb and opened fire on a convoy carrying the chief of the Georgian-backed administration in South Ossetia yesterday, injuring four but missing their apparent target.
Before that incident, a separatist police chief was killed by a blast in a secessionist-controlled South Ossetian village.
The South Ossetian separatist press committee said the situation was "deteriorating" and that a "general mobilization" was declared in the region, while separatist officials accused Georgian forces of trying to take strategic heights and setting up "illegal checkpoints" in the conflict zone.
Georgian officials say they are committed to peacefully resolving the conflicts.