Justice minister and prosecutor general posts to merge
By Mikheil Svanidze
Monday, July 7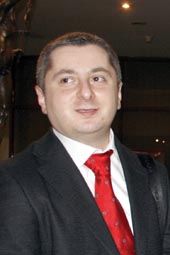 The government is planning to merge the Prosecutor General's Office into the Justice Ministry, according to a proposed constitutional amendment.
If the amendment passes as expected, the justice minister will also be the prosecutor general.
MP Marika Verulashvili, a member of parliament's legal affairs committee, said the amendment is a logical step to place the Prosecutor General's Office, an independent body since February 2004, back into a governmental branch.
"[The Prosecutor General's Office] cannot be separate. It must be within one of the branches of the government. Before 2004, it was a part of the judicial branch, which was incorrect, as in many cases the judicial branch and the prosecutor's office were on different sides in a court case," Verulashvili said.
Verulashvili said the prime minister will appoint someone to fill the combined justice minister and prosecutor general post.
Spokespeople from the Justice Minister and the Prosecutor General's Office both said it is too early to comment, given that the details still need to be hashed out.
"The amendment must pass parliament first. We can't say yet how this [merger] could affect the work of our structure," a spokeswoman for the Justice Ministry said.
Parliamentary committees are to discuss the amendment this week before passing them onto the full parliament for a vote.
Parliament is expected to adjourn for summer roughly around July 20, so it is uncertain whether the amendment will be passed this month, or in fall when parliament reconvenes.
The post of prosecutor general is under the judicial branch in most European countries, while in countries with Anglo-Saxon legal heritage it is part of the executive branch.
According to legal expert and opposition politician Vakhtang Khmaladze, one of the particularities in the new Georgian system is combining the post of justice minister and prosecutor general. While not a unique arrangement—the United States is similar—he says the system may prove troublesome in Georgia.
"A minister is a political figure. Prosecutor must not act with respect to his political views, but with respect to the law. This is the main problem," Khmaladze said. "There is a strict vertical system in the Prosecutor General's Office, with the prosecutor general on top. If the minister of justice simply takes over, that would be unacceptable, as we would see political persecution be legalized."
There is a second, unrelated constitutional amendment winding its way through parliament: lowering the number of MPs needed to form a parliamentary faction from seven to six.
Two committees are considering the amendments, both headed by MP Pavle Kublashvili, chair of the legal affairs committee.