Burjanadze launches democracy foundation
By Mikheil Svanidze
Tuesday, July 8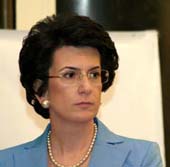 Political heavyweight and ex-parliamentary speaker Nino Burjanadze officially unveiled her new think tank yesterday in Tbilisi, saying more should be done to shore up a democracy which is "not steady."
"We cannot be content with the quality of democratic development which we have in Georgia now, because democracy now is not steady or reliable," Burjanadze said at the presentation. "We would like to investigate what happened to the embryonic democracy in Georgia."
Called the Democratic Development Foundation, her think tank's self-declared goal is "to promote true democratic values, strengthen public and civil institutions [and] create reliable conditions for the social and economic development."
Foundation official Giorgi Margvelashvili also said it will strive to "mobilize society and form social opinion."
"The foundation is a political body, but only in the widest sense of the word 'political,'" he added.
Prominent members of the media, civil society and the diplomatic corps were at the presentation.
In a brief speech, United States Ambassador John Tefft welcomed the foundation, emphasizing the importance of developing the young Georgian democracy.
The head of the OSCE mission and the German ambassador also made brief remarks. Russian Ambassador Vyacheslav Kovalenko was present, but did not comment.
The think tank will be led by an administration headed by former parliamentary budget office head Temur Murgulia, with guidance from an independent panel of experts, which will determine policy for the Democratic Development Foundation.
There are up to 20 Georgians currently slated to sit on the panel, including well-known Georgian analysts and former political figures, according to Margvelashvili.
Burjanadze did not say whether she would in any way oppose the current government.
The previous speaker of parliament, Nino Burjanadze decided not to run for reelection in May's parliamentary elections. In a last-minute surprise announcement of her decision, she cited disagreements over the names on the ruling party's electoral slate.
Burjanadze, together with President Mikheil Saakashvili and the late prime minister Zurab Zhvania, was an architect of the 2003 Rose Revolution which ousted then-president Eduard Shevardnadze.
Speculated to harbor presidential ambitions of her own, she was briefly acting president after Shevardnadze's departure, and held the position again in 2007 when Saakashvili stepped down to trigger a snap presidential election in the wake of anti-government protests.