Adjara reports 30 percent increase in tourists
By M. Alkhazashvili
Translated by Davit Kipiani
Tuesday, July 8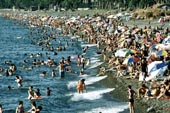 Official statistics show that Adjara received over 50 000 tourists in the first five months of 2008, 30 percent more than the same period in 2007.
Domestic tourists increased by 18 percent and foreign tourists by 82 percent, the newspaper Rezonansi reports. Authorities previously claimed that Adjara received 18 000 tourists between January and April.
Adjara has been Georgia's most popular seaside destination since Tbilisi lost control of the region of Abkhazia, an extremely popular holidaying locale in Soviet times, in the early 90s.
Authorities claim that the number of tourists visiting Adjara has rocketed over the past few years, more than doubling between 2005 and 2007.