Four dead in Gali blast
By Temuri Kiguradze
Tuesday, July 8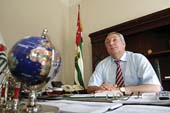 Abkhaz separatist authorities say they will cut all links with Tbilisi after a blast in the Abkhazian town of Gali killed six people on Sunday.
The explosion hit a cafe in the center of the predominantly ethnic Georgian town shortly before 11 p.m. on June 6, according to Abkhaz news agency Apsnypress. The blast killed a local security chief, an Abkhaz border department employee, a local resident and a translator for the UN mission office in Gali district. Another six were reported injured.
Abkhaz leaders blamed Georgia for the attack.
"This terrorist attack once again confirms that Georgia has chosen the way of state terrorism," said Abkhaz de facto president Sergey Bagapsh, according to Russian news agency Interfax. "The explosion in Gali is a terrorist act intended to destabilize the situation in the region. It continues the chain of terrorist acts in Sokhumi and Gagra."
Bagapsh said his self-declared republic would "cut all contact with Georgia" and bolster security measures along the administrative border.
Georgian officials deny responsibility for this blast and earlier incidents, blaming either Abkhaz infighting or Russian agents. The head of the Tbilisi-backed government-in-exile for Abkhazia, Malkhaz Akishbaia, told reporters the attacks stem from the "tense internal criminal situation" in the conflict zone.
The deadly attack is only the latest in a series of explosions and shootings in the breakaway regions of Abkhazia and South Ossetia, which have killed at least three others this month and injured many more.
A spokesman for the Georgian Interior Ministry, Shota Utiashvili, said they are "very concerned about [the] deteriorating situation" in the region.
The concern is shared abroad. Officials from the UN and the OSCE arrived in Georgia yesterday, and the United States secretary of state is due in Tbilisi tomorrow. For now, tensions remain at a high.
Georgia's pro-government leading television station claimed yesterday that the Abkhaz separatist security council has decided to attack Kodori Gorge at the end of this week. The small gorge is the only portion of Abkhazia under Georgian state control.
Abkhaz officials denied the report. Said de facto Abkhaz foreign minister Sergey Shamba: "Georgian media seems to have more information than I do."
Shamba, speaking to the Messenger, confirmed that Abkhazia sent appeals to organizations including the UN Security Council, the OSCE and the nations of the G8, now meeting in Japan, to "conduct adequate measures to stop the threat of terrorism coming from Georgia."
Yesterday a statement from the secretary general of the Council of Europe said the deadly blast "appears to be a terrorist act."
"These murders risk further aggravation of the tensions in the country, and I am very concerned that the situation may spin out of control. Any side which fails to refrain from provocations—or fails to do their utmost to prevent them—must accept full responsibility for the consequences of their conduct."