UN, EU call for restraint over Abkhazia
By Mikheil Svanidze
Wednesday, July 9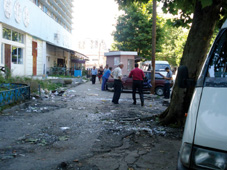 The UN Secretary General called for "maximum restraint" yesterday after a series of bombings in Abkhazia threatened to plunge the region into greater violence.
"The Secretary-General condemns the recent bombings in the cities of Gagra, Sukhumi and Gali on Abkhaz-controlled territory," reads a statement from UN Secretary-Heneral Ban Ki-moon's spokesperson.
It calls on all parties to "exercise maximum restraint, to refrain from violence and to work together in search for a peaceful and lasting settlement."
The statement comes after a series of explosions in breakaway Abkhazia that have killed four and left 16 injured, mostly civilians.
One UN interpreter was killed and another staffer injured in a July 6 blast in the town of Gali near the administrative border with breakaway Abkhazia, according to the UN statement. Three other men were also killed when a cafe in the town was bombed.
President Mikheil Saakashvili called for support from Georgia's allies yesterday in the face of what Tbilisi says is Russian aggression that inflames tensions in the region.
"We must reinforce tenfold our diplomatic efforts to stop this attempt to seize, annex and illegally occupy Georgian territory," he said at a National Security Session broadcast on Rustavi 2 television station.
The same day EU foreign policy chief Javier Solana commented on Abkhazia, also calling for all parties to show restraint.
"A peaceful, sustainable solution to the conflicts can only be found through dialogue," Solana's statement reads.
He added that the EU's top representative to the South Caucasus has been dispatched to Georgia to cool the situation.
Washington chimed in on July 7 with a US State Department statement backing Tbilisi's call for an international police presence in the region.
"We call on Russia to reverse its recent provocative steps in Abkhazia and consult Tbilisi on any future steps in both Abkhazia and South Ossetia," the State Department statement reads. "We note the urgent need for an international police presence in the areas where these bombings have occurred."
The same day Tbilisi repeated its call to put the conflict zone under international supervision and a joint Abkhaz-Georgian police force.
Temur Iakobashvili, the country's minister for conflict issues, said the Abkhaz could agree to a joint peacekeeping force.
"[The de-facto Abkhaz administration] will allow joint international peacekeeper forces [to control the conflict area] only if they see it beneficial for them or if they will understand it is inevitable," he said at a press conference yesterday.
He underlined that the peacekeepers must be civilian police forces and not military units.
But de fact Abkhaz officials said replacing peacekeepers with an internationally-monitored police force was out of the question.
"There can not be any international police force on our territory," the news agency Interfax quoted separatist leader Sergey Bagapsh as saying yesterday. "We are not going to heed any recommendations by the US State Department which has always taken a unilateral pro-Georgian stance."
US Secretary of State Condoleezza Rice is scheduled to arrive in Tbilisi today. En route to Prague yesterday she said the US backs a Tbilisi peace plan for the conflict announced in March.
"But the Georgians have a proposal out there for—that could be the basis for talks between Georgians and Abkhaz. We've been very much encouraging direct talks between the Abkhaz and the Georgians and I hope those will take place," she said.
Yesterday Saakashvili said Rice's trip would be an important part of the government's attempt to settle the conflicts through peaceful means.