Inflation beware! Tbilisi economic school graduates first class
Wednesday, July 9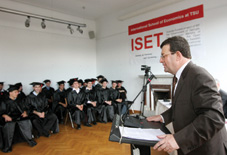 Education Minister Ghia Nodia and former prime minister Zurab Noghaideli were among the guests at the July 6 graduation ceremony for the first batch of students to pass the two-year Master's programme offered by Tbilisi State University's International School of Economics (ISET).
Officially opened in 2006, ISET prides itself on offering an education that meets international standards, and is backed by a number of international companies and organizations.
It was set up at the initiative of former prime minister Zurab Zhvania who, just weeks before his untimely death, wrote a letter to the World Bank president requesting help in "creating [Georgia's] own capability to train young economists in modern economics as it is taught around the world."
A measure of the school's high academic standards is perhaps shown in that only around half of the students to enroll on the course succeeded in graduating with MA certificates.
ISET takes students from both Azerbaijan and Armenia as well as Georgia.