South Ossetia releases Georgian soldiers
By Temuri Kiguradze
Wednesday, July 9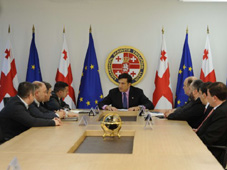 South Ossetia's separatist authorities released four Georgian servicemen held overnight after foreign diplomats intervened yesterday. Georgia's president had threatened a police operation to free them.
The soldiers were freed after OSCE representatives met with separatist officials, according to Georgian Defense Ministry spokeswoman Nana Intskirveli. They were taken to a military hospital in the nearby Georgian town of Gori for a medical examination, and show signs of having been beaten.
South Ossetian separatist officials said the group of officers, which included one colonel, were in an artillery unit and detained while "collecting information for the correction of artillery fire," according to the separatist press committee.
The Defense Ministry confirmed the capture but denied the soldiers were carrying out military tasks.
According to the Defense Ministry, the soldiers serve in a logistics group and were headed to visit friends in a Georgian-controlled area while on their day off.
They were abducted by a "gang consisting of Ossetian militiamen and North Caucasians," Georgian peacekeeping chief Mamuka Kurashvili told reporters.
Tbilisi officials were optimistic yesterday that the soldiers would be released promptly. Temur Iakobashvili, the country's top official for conflict issues, said yesterday afternoon he hoped for a release by the end of the day.
But while the soldiers were still in South Ossetia, Georgian President Mikheil Saakashvili convened an emergency session of the National Security Council to warn of force if the "bandits" did not release the men.
"I command the Interior Ministry to have the police free our soldiers if this outlaw gang [of South Ossetian separatists] doesn't release them," he said in a portion of the session aired on Georgian television.
Earlier South Ossetian officials told Russian news agency RIA-Novosti the soldiers would not be returned until Georgia frees a 14-year-old Tskhinvali boy who they claim was kidnapped by Georgia.
The Defense Ministry spokeswoman said she had not heard about that claim.
The capture of the soldiers came with tensions already at a high in Georgia's two conflict zones. Last week two men were killed in South Ossetia by shelling between Georgian and separatist forces, and on June 6 a blast in breakaway Abkhazia's southern Gali district killed four men and injured half a dozen more.
The deadly shelling came a day after gunmen set off a roadside bomb and opened fire on a convoy carrying the chief of the Georgian-backed administration in South Ossetia, injuring four but missing their apparent target.
Before that incident, a separatist police chief was killed by a blast in a secessionist-controlled South Ossetian village.
The South Ossetian separatist press committee said the situation was "deteriorating" and that a "general mobilization" was declared in the region, while secessionist leader Eduard Kokoity claimed Georgia is preparing to attack the separatist enclave.
Tbilisi says it too is worried about the deteriorating situation, but remains committed to peaceful resolution of the conflict.