State minister: Georgia in 'low-intensity conflict'
By Alexander Ward
Friday, July 11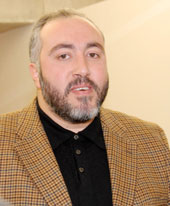 Shortly after US Secretary of State Condoleezza Rice finished her short trip to Tbilisi yesterday the
Messenger
interviewed the country's top official for conflict issues, Temur Iakobashvili.
A respected academic but an unmannerly, brusque and at times outright rude interviewee, Iakobashvili has been the state minister for conflict resolution issues since a cabinet shuffle after the snap presidential election in January.
With this month having seen the most violence in years, the state minister said the country is now embroiled in a low-intensity conflict over its two separatist regions, Abkhazia and South Ossetia.
He also suggested that if Russian peacekeepers are pulled out of the conflict zones and replaced by an international policing force, Tbilisi would be ready to sign a pact on non-resumption of hostilities.
A transcript of the interview follows.
(Questions and answers have been edited for length and clarity)
The Messenger: What did you discuss with US Secretary of State Condoleezza Rice?
Mainly there were three issues discussed with Condoleezza Rice: Georgia's territorial integrity and peaceful resolution of the existing conflicts, Georgia' aspiration to NATO and third was democratic development and democratic transition inside Georgia.
TM: Were you pleased with the outcome?
It was a discussion, meaning that both sides had an opportunity to express their views on these issues. We had unanimous agreement about Georgia's aspiration to NATO and how soon and when Georgia should be in NATO and support of Georgia in December ministerial meeting—so that issue was the easiest one as there was an understanding on that issue.
On the conflicts, which is more complicated than NATO enlargement for us, we expressed our concerns with the latest developments that are happening in the conflict zones, our worries are related to Russia's behavior in the conflict zones and the escalation of the situation in the conflict zone so we expressed our views on what should be done and how it should be done.
Secretary Rice agreed with our assumption that Russia is not an impartial side in this conflict unfortunately, and… she also understands the program of refugees and [internally displaced persons] cannot be postponed indefinitely.
We elaborated some concrete steps that can be taken and should be taken, in the nearest future—[by] the end of the year—obviously I cannot talk on those details, but they are concrete steps that should be beneficial for all sides.
We also discussed the engagement of the European powers and the European Union in this process and Secretary Rice endorsed the peace plan of Saakashvili. And that was very important for us.
TM: Do you think Europe's doing enough in terms of 'concrete steps'?
There are no concrete steps, that's why we cannot say Europe is doing enough and that is probably the problem—that we need concrete steps besides statements and we are quite encouraged by the initiatives of the German government especially the initiative that the German Chancellor Ms. [Angela] Merkel took and [German Foreign Minister] Mr. Steinmeier and we are looking forward to being familiarized with the German proposals and we believe that there will be a lot of things that we can find plausible and realistic to implement.
TM: You said in May that Georgia literally had to avert war. How close is Georgia to war now?
I would say that where we are at now, it is more [a case of being] not in danger of war but we are already into low-intensity conflict.
And everyday something surprising happens, with a lot of naming and shaming and blaming and even yesterday we had not only the accident with shooting in Kodori Gorge and attack on a Georgian [checkpoint] in Zugdidi district but we also had four Russian airplanes violating Georgia's airspace.
Today we had a weird explanation from Russian foreign ministry [about the airspace violation], and more and more the Russian Foreign Ministry's website becomes weird and obscure.
But we are already in the low-intensity conflict, I must say. And that's why we believe that the situation can be and should be defused.
TM: When you took up the post the name of the position changed from State Minister for Conflict Issues to State Minister for Reintegration Issues. What was the thinking behind this?
When I took this post this office was dealing only with conflict areas, now it is dealing with national minorities as well.
TM: Given the Abkhaz separatist stance on final status issues, is there a danger than the renaming could be counterproductive to negotiations?
I don't think that names matter that much. As far as I remember, the Abkhaz always said that the best negotiator was [current envoy to the UN Irakli] Alasania and Alasania was carrying an absolutely unacceptable for them name—the chairman of the supreme council of the Abkhaz autonomous republic, so it's not about [the] name, it's about substance.
The legacy that I inherited—it gives me the possibility to say that if [the] Abkhaz are interested in negotiations, they do it without this artificial hesitation.
TM: So did you get a negative reaction from the Abkhaz on the matter?
We have a negative reaction about it—they say we don't talk to minister of reintegration.
TM: But they have been talking to you?
Yes, to a representative of the Georgian government.
TM: This week Abkhaz de facto president Sergey Bagapsh said Sokhumi has severed all ties with Tbilisi. What does this mean in effect and how will you proceed?
First of all you cannot dismiss something that doesn't exist. So it will be extremely difficult to cease all contacts when no contacts exist.
I think these kinds of statements are largely for domestic consumption. Because unfortunately all Abkhaz political groups are competing for who is the most anti-Georgian...so it's not adding any confidence to our relations but it is unfortunate that these kinds of fragile issues are largely utilized for domestic political gains.
But we do that kind of thing as well, so…
TM: Last month you met Abkhaz separatist officials in Sweden for talks. Was this worthwhile?
First of all it was not a negotiation kind of meeting so there was nothing planned to achieve and from the beginning we were not trying to achieve something —was more an exchange of ideas.
I'm quite satisfied with this exchange of ideas because I had an opportunity to express my vision and the vision of the Georgian government and they also did the same and I can tell you that we had a very open, very frank, sometimes unpleasant, exchange of ideas but nevertheless very useful.
TM: So will we see more of these talks in future?
If we see a need for that, we will see that.
TM: You said in an academic paper last year that if the West fails to realize the important role that bringing Georgia closer to NATO can play, this could help undermine political forces in Georgia that are using soft power to solve the conflict.

Is this a real danger now?
We are in a situation where the conflicts are not frozen anymore, and in this reality we may see all sorts of developments.
The Georgian government is committed to a peaceful resolution. There is a very strong decision made that we are not going to start war. What we are trying to do is consolidate the international community to avert dragging Georgia into war.
And second to find durable solutions to these conflicts that are pending to be solved.
TM: If there is a new peacekeeping force, would the Russian force stay there while the new one is brought in?
What we are saying—it's not to get Russians out. We are saying that we have to switch from a military operation to a civilian operation and we say that we don't need military gung-ho guys there, we need policing forces where Russians can be definitely within the policing forces…but we need a different nature of the operation.
We are not saying Russia go home, we are saying we don't need militaries to repatriate refugees and IDPs and keep the situation defused.
And the very moment that Russian militaries will be out of Abkhazia and international police forces will be in Abkhazia, Georgia will take the unilateral responsibilities on non-resumption of hostilities.