Fifth annual Art Gene festival begins
By Eter Tsotniashvili
Monday, July 14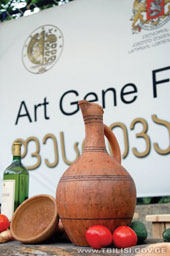 Georgian folklore and music festival Art Gene began July 11 in Tbilisi.
In a departure from earlier years, the festival will be divided in two parts, organizers said at a July 8 presentation at Vake Park.
It is at a newly-renovated state in Vake Park that the Georgian arts will be front and center from July 11–20.
"For nine days here, there will be an exhibition of Georgian photo and paintings, poetry evenings, Sukhishvili concert and days of Georgian movies," organizer Niaz Diasamidze told reporters.
Zaza Korinteli, better known as the folk musician Zumba, said that the folklore portion of the festival will begin July 23 [dc] at the Ethnographic Museum and end July 27.
"We will have guests from all parts of Georgia," he said.
And not just Georgia—from this year on, Art Gene will also play host to cultural days for foreign countries. This year, it is China.
Another new step for Art Gene is inviting modern artists to exhibit their paintings.
"It is the first time my paintings will be exhibited at such a place—it does not look like galleries. We are very pleased the organizers invited us," painter Kote Jincharadze said.
This is the fifth year of Art Gene, an arts festival founded to promote local art forms.
"I ask people to not miss even one day of our festival, because each day is very interesting and full of variety. Our guests, including foreigners, will understand very many things about Georgia. We will introduce our country, culture and traditions them," said Korinteli.
Events in Vake Park start at 21:00 pm, while festivities start from noon at the Ethnographic Museum. Tickets for concerts at Vake Park are GEL 10, or GEL 15 for a seat. Tickets are GEL 5 each at the Ethnographic Museum.
Art Gene schedule of events
Vake Park
July 15 – film, painting exhibition, photo exhibition
July 16 – film, painting exhibition, photo exhibition
July 17 – Prani (band)
July 18 – Sinatlis Tselitsadi (band)
July 19 – Kakha Bakuradze and movement theater
July 20 – Theatrical performance directed by Otar Egadze
Ethnographic Museum, by Kustba (Turtle Lake)
July 23 – Ethnographic exhibit, Chinese culture exhibit, Georgian folk dances
July 24 – Ethnographic exhibit, martial arts, young Georgian folk ensemble, Georgian folk theater Mtiebi.
July 25 – Ethnographic exhibit, martial art, guests from Shida Kartli, Samtskhe-Javakheti, Mtskheta-Mtianeti, Imereti, local folk ensembles
July 25 – Ethnograpic exhibit, martial arts, guests from Samegrelo, Racha, Svaneti, Kakheti, the Chveneburebi ensemble and their French guests
July 27 – Festival finale with ethnographic exhibits, martial arts, guests from Adjara, Guria, Pankisi Gorge, Tusheti and a performance from Zumbaland and Friends.