Georgia looks for strong response to Russian flyover
By Mikheil Svanidze
Monday, July 14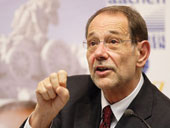 Tbilisi sought but did not quite find broad international condemnation over the weekend of last week's intentional violation of Georgian airspace by Russian warplanes.
Speaking to reporters while attending a conference in Yalta, President Mikheil Saakashvili said he was looking for an international response to the Russian action.
"All norms of international law have been infringed, all borders have been violated. I believe the international community should strongly respond to such things," Saakashvili told Russian news agency RIA-Novosti.
But he suggested to Reuters that the response so far has been disappointing: "Not only does Russia keeps surprising, but sometimes the inability of some parts of the international community to adequately react (is surprising)."
The request for international support was echoed by the Georgian parliament, which unanimously passed a resolution on July 12 calling on the international community to give a "strict assessment" of the Russian flyover.
"[The Georgian parliament] addresses the international community…to provide a strict assessment of the Russian Federation's aggressive actions," the statement reads.
"The Russian Ministry of Foreign Affairs' statement confirming this act of aggression is not only admitting direct annexation and the process of military occupation of two Georgian regions, but also an obvious attempt to start direct military confrontation."
Parliament's resolution also called for support in changing the Russian-led peacekeeping force which Tbilisi says is propping up separatist administrations in South Ossetia and Abkhazia. Without that support, parliament said, it would go ahead and demand the withdrawal of Russian peacekeepers.
Public responses over the weekend did not seem to live up to Georgian hopes.
Javier Solana, the EU's foreign policy chief, expressed "disapproval" with Russian actions through his press office on July 12, and said he would talk it over with Russian officials.
Russia sent its jets over breakaway South Ossetia to "cool down hot heads in Tbilisi," Moscow said in a statement confirming the July 9 flyover. However, the action didn't entirely tamp down bellicose words from Georgian politicians.
"We are taking serious steps to prepare our armed forces, and we have the power to put an end to these aggressive steps in a absolutely unequivocal manner," Nika Rurua, deputy chair of the parliamentary defense and security committee, told reporters.
"If the Russians continue to do things like this, they will have to collect the wreckage of their aircraft."
The Georgian Defense Ministry reported July 9 that four military aircraft flew over secessionist-controlled South Ossetia from Russia the evening before.
On July 10, as the United States secretary of state finished a brief trip to Tbilisi, Moscow confirmed the flights, saying they were needed for "clarification of the situation [in South Ossetia]." Russia said it had reason to believe there was an imminent Georgian operation to free four soldiers taken captive and later released peacefully.