TBC Investment Bank and TBC Broker unveil new financial services
Monday, July 14
Special Feature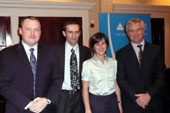 TBC Investment Bank and TBC Broker introduced a wealth management project and other projects to help companies find capital at an investment forum at the Tbilisi Marriott on July 11.
A wide variety of products and services were demonstrated to individual and corporate clients. These were company valuations, financial consultations and intermediary services including Asset Allocations, Commodity Futures, ETFs and so on.
TBC Investment Bank and TBC Broker have cooperated since 1999 to identify the needs of clients and conduct activities in compliance with international demands.
TBC Broker's CEO Luc Caltider said, "The products that we are introducing today are long overdue. Georgia has been participating in the world markets for some time now and by working with TBC Investment Bank, companies in Georgia finally have real partner to help them find investments for their businesses, both locally and internationally. Additionally, TBC Broker has established its international partnerships to provide a wide variety of investments to the Georgian market. In fact, individuals can now trade on more than 50 global markets through our internet trading platform with fees starting at only USD 15 per transaction."