Gamsakhurdia ditches opposition bloc, calls it fake opposition
By Eter Tsotniashvili
Tuesday, July 15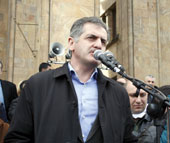 On July 12 another high-profile member of the beleaguered United Opposition bloc left the group, accusing its members of collaborating with the government.
"Saakashvili's government is as strong as ever," said Konstantine Gamsakhurdia, leader of the Freedom Party, in a telephone interview with television station Rustavi 2.
"I made a sacrifice for the idea of unity, but the result is in fact deplorable. Today, Saakashvili's rule is as strong as ever," Gamsakhurdia said.
"The opposition will not be able to avoid responsibility for this. Its inefficiency and secret meetings and negotiations its individual members made with Burjanadze and Saakashvili left everything as it was before."
"I can't imagine cooperating with this so-called opposition. There is no genuine opposition in Georgia today."
Freedom spokeswoman Nati Toidze confirmed Gamsakhurdia's split with the coalition, but said he has not legally requested to be removed from the bloc in election records.
His party would be eligible for state financing after its election performance as part of the United Opposition, but a law likely to pass through parliament would withhold state money to political parties whose members renounce their MP status, as Gamsakhurdia and most coalition members have done in protest of what they say were rigged elections.
Kakha Kukava, a Conservative and leading coalition member, said Gamsakhurdia's accusations were groundless and committed his party to staying within the splintered bloc.
"I want to declare on behalf of the Conservative Party that in spite of the fact there is open terror, bribery and dirty propaganda against [the opposition coalition], the Conservative Party stays in the opposition coalition…we still continue to struggle against Saakashvili's illegal regime," Kukava said in a statement.
The United Opposition won 17 seats in the May parliamentary elections, but lost several members when they split with the group rather than give up their seats.
Gamsakhurdia is the eldest son of Georgia's first president, Zviad Gamsakhurdia. He lived in Switzerland following the overthrow of his father's government, but returned to the country after the Rose Revolution and founded a personal political party.
Gamsakhurdia joined the United Opposition coalition last fall, when the group formed to capitalize on an outpouring of protest after the controversial arrest of an ex-minister.