TAV Georgia has registered its success by ISO
Tuesday, July 15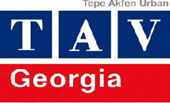 TAV GEORGIA received ISO 9001:2000, Quality Management and ISO14001:2004 Environmental Management certificates through URS United Registrar Systems by a presentation ceremony held on 10th June 2008, in Tbilisi. These certificates confirm the effectiveness and successful implementation of the Quality Management System and Environment Management System in all the activities of TAV Georgia and also that they meet the requirements of the ISO 9001:2000 and ISO 14001:2004 Standards.
Mr.Burak Birhekimoglu,General Manager of TAV Georgia, speaking at the ceremony, said that their aim to implement ISO9001:2000 is to determine their services in standards for obtaining continual improvement and consequently fulfilling customer satisfaction in overall operations at both Tbilisi and Batumi Airports.
According to his continued speaking; he mentioned their aim to implement ISO14001:2000 to establish the possible environmental impacts of their services and activities and control those damages in the most environmentally-tolerable levels at two airports.
"We feel particularly honoured because these two certificates are unique at airport, terminal and ground handling operations in Caucasian region. This certification is adding a valuable milestone in our operations management system at Tbilisi and Batumi Airports. Today as TAV Airports, who has obtained very remarkable aviation know-how and experience for years; we are significantly taking a part to implement this knowledge and experience into a system. In the airports of which operations are undertaken by us, we are operating our overall activities and services so as to establish the management system in quality, environmentally-conscious and continually improving frame."
The ceremony was honoured by the attendances of Mr.Osman Unaydin head auditor of URS, Mr.Serkan Kaptan, Business Development and Investments Director, Mr.Murat Ornekol, Operations Director of TAV Airports Holding, Mr.Mujdat Yucel, General Manager and Mr.Ilhan Boke, Quality Manager of Havas Ground Handling Co and TAV Georgia's employees in QMS and EMS working groups.