US Embassy 'deeply troubled' by Russian military flyover
By Mikheil Svanidze
Tuesday, July 15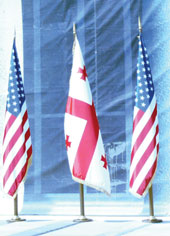 The US Embassy in Georgia called last week's Russian flyover of Georgian territory "inflammatory," while Tbilisi waited on an answer for their request to convene a UN Security Council session over the incident.
"We are deeply troubled by Russia's statement that its military aircraft deliberately violated Georgia's internationally recognized borders by flying over Georgia's region of South Ossetia," the embassy's statement reads.
"Such actions are only inflammatory and complicate diplomatic efforts to ease tensions."
In reaction to Russia's acknowledgement that it sent military aircraft over Georgian territory as a preemptive warning against violence, Georgia withdrew its ambassador and appealed to the UN Security Council to convene an emergency session to discuss the situation.
Georgia's representation to the UN said they are waiting on a response.
"We wrote our formal appeal for the [UNSC emergency session] on [June 11]. We didn't get any response yet, but we expect it very soon, today or tomorrow," a spokesperson in New York told the Messenger yesterday evening.
Konstantin Zatulin, the deputy chair of the CIS relations committee in the Russian Duma, predicted Tbilisi would be left empty-handed.
"In my opinion, it has no chance," he said, according to Russian news agency Itar-Tass, describing the request as "pure propaganda."
Russians submitted its own draft resolution to the UN Security Council on July 8, which called on Georgia to sign a non-use of force agreement with the separatist Abkhaz and South Ossetian administrations.
"At this point, we believe that [signing the agreement] is an absolute must if we are to hope to see some political progress and restoration of trust," Russian representative to the UN Vitaly Churkin said then.
The last UN Security Council session convened over Georgian affairs was on May 30, when the alleged downing of a Georgian unmanned spy plane by a Russian fighter was discussed. The council did not produce any resolutions.
Moscow confirmed on July 10 that its warplanes flew over separatist-controlled Georgian territory two days earlier to "let hot heads in Tbilisi cool down," prompting a furious Georgian government to recall its ambassador to Russia.
Moscow says it had reason to believe Georgia was ready to mount an operation in South Ossetia to free four soldiers held by separatist authorities but released that same day.