Maestro TV license hearing postponed
By Shorena Labadze
Wednesday, July 16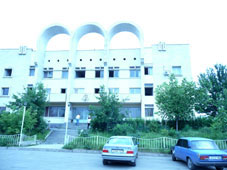 Maestro TV, an independent cable television station, will have to wait until September 10 to resolve its case with the Georgian National Communications Commission. The hearing was to take place July 14 but the commission postponed, saying its representative was out of town.
"The reason for the adjournment [of the hearing] was our representative's absence because of being in Batumi," Khatia Kurashvili, Georgian National Communications Commission (GNCC) press speaker, said.
In November 2007, the GNCC issued an official warning to the station for airing three political programs, which the commission said broke the terms of its license which permit it only to broadcast entertainment programs. Maestro TV mainly airs music and entertainment programming in urban areas.
On November 28, 2007, Maestro TV stopped broadcasting under disputed circumstances, and the GNCC is not issuing the station a general TV license.
According to the station chief, Mamuka Ghlonti, the commission is drawing out the process on purpose.
"The reason they claim is simply funny. They have two representatives. It's very easy; they could send one of them there [to Batumi] and one to the court. I think they consider us to be children," Ghlonti said.
Kurashvili said the application has not been formally turned down, but that the process will be delayed for a twelve-month term due to the station's license violations.
Ghlonti, the station chief, says he will be working with international organizations and keeping them apprised of events.
"We aren't going to protest the issue in the street as that makes no sense. I'll find a way out with international official relationships," Ghlonti said.
According to Eliso Chapidze, editor of the newspaper Rezonansi and member of the newly-created Journalists for Free Speech, Maestro TV representatives aren't going to do anything outside of the law.
"We obey the court decision and respect it. We have no right to put this decision under question, but it is a fact that the GNCC evidence is feeble and unconvincing," Chapidze said.
Maestro TV is appealing an April commission decision which forbade the station to broadcast public and political programs.
Ghlonti later alleged that it was the government who had forbidden the programming. He added that he had come under pressure from an unknown person two weeks before the shutdown, who warned against broadcasting the political programs.
According to Ghlonti, an hour before the political talk show "Profession Journalist" began, someone called him and demanded him to stop airing the program. The program aired and suddenly the transmission was disrupted. The GNCC then commented that Maestro TV stopped its broadcast due to technical problems.