US, NATO 'troubled' by Russian flyover
By Mikheil Svanidze
Wednesday, July 16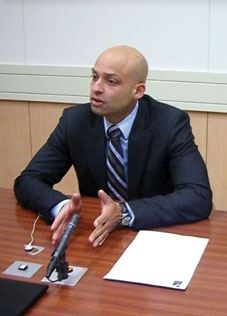 The US State Department and NATO have both made statements of concern in reaction to last week's Russian military flyover of Georgian territory, as Moscow and Tbilisi accused each other of holding up a UN Security Council session on the incident.
Georgia has sought international pushback against Russia for the incident, and Tbilisi is enjoying a steady parade of supportive statements, if not actions.
A NATO spokesman said the alliance, which Georgia aims to join, was "concerned" by the Russian aircraft flights and added that this could undermine Russian role as peacekeepers in the region.
"The secretary general is concerned by the recent escalation of tension in Georgia, he is troubled by Russia's statement that its military aircraft deliberately overflew Georgian territory in violation of its territorial integrity," said NATO spokesman James Appathurai yesterday on the behalf of the alliance's secretary general. "These actions raise questions about Russia's role as peacekeeper and facilitator of negotiations."
And on July 14 the United States State Department echoed the remarks of its embassy in Tbilisi, stating, "We are deeply troubled by Russia's statement that its military aircraft deliberately violated Georgia's internationally recognized borders by flying over Georgia's region of South Ossetia."
The US and the EU, joined by Canada and Norway, also took their concerns to an OSCE permanent council session yesterday, where the Americans said they are "deeply concerned about the security situation in Georgia." The US delegation cited Moscow's early condemnation of Georgian reconnaissance drone flights over Abkhazia in criticizing the July 8 Russian flyover of South Ossetia.
"We recall that one month ago Russia argued that Georgia's reconnaissance flight over its own territory by an unarmed UAV was provocative; by Russia's own logic, this latest action must therefore be considered a far more serious provocation."
Their statement also said joint monitoring of the Roki Tunnel linking Russia's North Ossetia to separatist-controlled South Ossetia and establishing more checkpoints would help "deter the illicit flow of weapons."
The EU presidency told the session it was "especially alarmed" by the Russian statement confirming an "unacceptable" violation of Georgian.
Moscow says the Georgian delegation is delaying a UN Security Council meeting on the incident, which Tbilisi requested on July 11 following Russia's confirmation of the overflight.
"We are fully ready to hold a requested [UN Security Council] meeting without any protractions, to bring the attention of the international community to a string of Georgian provocations, which lead the situation in the region to a dangerous line," a Russian Foreign Ministry statement reads.
A closed-door UN Security Council session is now scheduled for July 21, after the council presidency spoke with Russian and Georgian representatives yesterday to settle on a date and format, according to Matthew Russell Lee, the UN bureau chief for the online publication Inner City Press.
Earlier the Russian ministry said the session is on hold after the Georgian envoy to the UN left New York for high-level consultations with US officials in Tbilisi.
The Georgian Foreign Ministry called this "obvious misinformation."
"On 12 July 2008 Mr. Alasania returned to New York and remains there up to this day without ever requesting to postpone a session. Another point to specify is that no visit of 'US high-level delegation' took place during this period," the Georgian statement said in English, before suggesting that the session is actually being delayed because it is Russia's envoy to the UN who is not in New York.
Moscow confirmed on July 10 that its warplanes flew over separatist-controlled Georgian territory two days earlier to "let hot heads in Tbilisi cool down." Moscow says it had reason to believe Georgia was ready to mount an operation in South Ossetia to free four soldiers held by separatist authorities but released that same day.
A furious Georgian government called home its ambassador to Russia for "consultations."
The ambassador, Erosi Kitsmarishvili, testified to parliament yesterday in a closed-door session. In comments to Georgian reporters after wards, he said the Georgian Embassy in Moscow continues to operate.
"However, this is much distrust in the relations of [Georgia and Russia] and this has various causes. The embassy will do its best," he said.