Kavkasia TV and the end of independent media
By Nika Khorava
Friday, July 18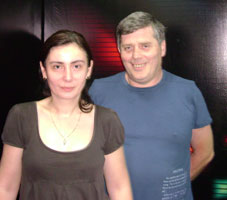 For four hours on the evening of July 15, the country's human rights ombudsman stood in parliament to read from last year's report on human rights in Georgia.
About three hours into the presentation, a correspondent for Rustavi 2, Georgia's leading TV station, reported live from the legislature. She said MPs were "angered" by the ombudsman's mention of human rights violations dating to 2005 and 2006, and pointed out that both ruling party and opposition MPs had grievances with the ombudsman. The correspondent devoted exactly one sentence to the actual content of the 1 377-page report on human rights abuses. The next day, Rustavi 2's news bulletins made only the barest mention of the report.
By contrast, Kavkasia TV, a low budget station which broadcasts only to Tbilisi, gave the floor to the human rights ombudsman for an hour during primetime the following evening to detail the report and rebut MPs' attacks.
After the closure of pro-opposition Imedi TV left a homogenized handful of government-friendly nationwide networks, Kavkasia stood out as an exception on the Georgian television landscape.
Despite the station's flagship talk show becoming a forum for opposition politicians and government criticism, Kavkasia rejects the "pro-opposition" label so often applied to it by other media outlets, including the
Messenger
, and says the authorities are hell-bent on shutting it down only because it has avoided falling under their control.
"People often say that we are an opposition TV station. We are not pro-opposition. The fact that we are not under the influence of the government doesn't mean that we're under the influence of some opposition group," Nino Jangirashvili, Kavkasia's director, said in an extensive interview. Given the state of the Georgian broadcast media and the "totalitarian leanings" of the government, she said the channel seeks to "provide a certain alternative space for alternative ideas."
"For better or for worse, these alternative ideas come mainly from the opposition or opposition-leaning groups. The civil sector is of course by definition pro-opposition, as is the media, because critical thinking should be at its very essence."
Kavkasia was set up by husband and wife team Davit Akubardia and Nino Jangirashvili in 1994. Akubardia, known for his supremely informal approach, hosts "Studia Spektri," currently the only live political talk show in the country. Jangirashvili edits news programming, does administrative tasks and serves as the channel's spokeswoman. For the most part, Akubardia says, the venture has not been profitable.
Aside from "Studia Spektri," the channel broadcasts three short news bulletins per day. Its other programming includes shows from Russia's Style TV, a local astrologer's weekly forecast, and Bollywood films dubbed into Russian.
Jangirashvili draws a sharp distinction between "Studia Spektri," which she acknowledges serves as a forum for criticism of the government, and Kavkasia's news service. She says its coverage is more balanced and free of assessments than that of Georgia's other channels and claims that its journalists have more freedom.
Asked about that statement, Eliso Chapidze, a prominent editor at Georgian newspaper Rezonansi, was guarded in her reply: "I haven't thought about it, but perhaps it is Kavkasia [which gives reporters the most freedom]."
Sofia Tetradze, a former reporter for the state-financed Georgian Public Broadcaster who now works for a Russian network, agreed that Kavkasia gives journalists more freedom than other Georgian channels.
Jangirashvili says the station has always been firmly independent. Kavkasia's relationship with the current government of President Mikheil Saakashvili has been rocky from day one. On November 22, 2003, the day Saakashvili and his allies stormed parliament in the Rose Revolution, Kavkasia's transmitter on the Tbilisi television tower was shut down, suspending broadcasts for several days.
Jangirashvili attributes the incident to the authorities' "pathological fears" of media outlets beyond their control.
"From the very beginning, when these people came to power after the revolution, our TV station was an enemy for them, because this TV station was not controlled by them," Jangirashvili said, noting that several TV stations, such as Iveria, Channel 9 and 202 have vanished from the airwaves under the Rose authorities.
Nonetheless, for the first four years of Saakashvili's government Georgia kept a relatively pluralistic broadcast media thanks mainly to Imedi TV, the well-financed and popular station owned by late media tycoon Badri Patarkatsishvili.
Over the years, Imedi gradually earned a reputation as a government critic and by fall 2007 was a crucial component in opposition groups' efforts to rid Georgia of Saakashvili's government. At about 9 p.m. on November 7, after the dispersal of anti-government protests sparked violent unrest in Tbilisi, armed special forces troops raided and shuttered Imedi. Its archive and most of its equipment were smashed to bits.
Shortly afterwards, Akubardia and Jangirashvili say, they were approached by a "businessman" with ties to the government who warned them that a similar fate awaited Kavkasia unless they agreed to sell the channel or radically alter its programming in exchange for a handsome sum.
After Akubardia and Jangirashvili refused, the channel was spared a raid but its transmitter at the Tbilisi TV tower was shut down. Kavkasia remained off the air entirely during a 10-day state of emergency in November that prohibited private broadcast media from carrying news programming. While Imedi remained off the air, Kavkasia returned to the airwaves on 17 November.
This was a crucial turning point in the channel's history. With Imedi gone and the country's three remaining nationwide networks, private Rustavi 2 and Mze TV and the Georgian Public Broadcaster, universally acknowledged as being subject to government influence, Kavkasia was the last remaining bastion of opposition thought for TV viewers in the capital. Its ratings soared.
Reliable statistics are hard to come by, but Georgian newspaper Kviris Palitra rated Kavkasia the third-most watched Georgian station in January of this year, despite broadcasting only to Tbilisi. The same research put the channel in seventh place a year earlier.
"The public was in shock [at the treatment of the media]," Jangirashvili said. "I personally, and society as a whole, thought that we had returned to the Soviet Union and were having visions of Brezhnev and Andropov and 1937."
At that time, Jangirashvili said, Kavkasia was the only "free space" on the Georgian airwaves and the interactive nature of "Studia Spektri" was a form a "group therapy" for a Georgian populace starved for objective information.
"At that time, there was one free space: Kavkasia. For those three or so months we effectively had to reject being journalists. There was such fear, aggression, outrage and desperation in society that for many people, Kavkasia's programming—I'm speaking about the talk show—was a form of psychotherapy," Jangirashvili said. "It was group therapy for them because it is not a place where one person talks and the others listen; here, people call in and send SMSs and an exchange of ideas takes place. It was a forum of sorts—truly group therapy—and people didn't care about the fact that we only had three cameras and a bad studio."
With greater exposure came more attention from advertisers; commercial breaks swelled to as long as 15 minutes. Akubardia said they reinvested the financial windfall into the station, setting up a new studio and buying new equipment.
He dismissed as "nonsense" a local tabloid's assertion that he used his alleged newfound wealth to feed a gambling habit, describing the report as part of the government's efforts to discredit and undermine the station.
Another consequence of Kavkasia's heightened role was louder criticism and mockery from its detractors. The shoestring nature of the operation and its supposed lack of professionalism came under satirical attack recently on Rustavi 2's sketch comedy show "Shabatis Shou."
An actor portraying Akubardia hosting "Studia Spektri," playing the role with a whiny voice and exceedingly bad posture, took a call on his mobile phone, lit up a cigarette and asked his guest for a backrub. A butcher then popped in to chop meat on the studio desk.
Kavkasia hit a snag on May 14, one week before the previous parliamentary elections, when it went off the air once again due, officially, to a short circuit at a transmitter at the Tbilisi TV tower. The channel resumed broadcasts three days later.
Now, Kavkasia's owners say businesses that advertise on its airwaves have come under intense pressure from the authorities. In late June, Akubardia and Jangirashvili alleged that the Financial Police were summoning business owners and threatening various punitive measures if they did not withdraw their ads.
These efforts, Akubardia says, have been largely successful: ad revenues have plummeted and expansion plans, such as going out on satellite, have been shelved.
At a recent press briefing, Finance Minister Nika Gilauri dismissed the allegations and called on the channel to refrain from reporting such "disinformation."
On July 7, Jangirashvili and Akubardia published a statement in the newspaper Rezonansi saying that now that the government has control over the nation's other TV networks, it is trying to "plug the last hole" by crippling Kavkasia financially and ultimately bankrupting it. They vowed defiance and said that if necessary they would seek direct donations from viewers.
Support has come from the newly-founded group Journalists for Freedom of Speech, which has issued appeals calling on the public to support Kavkasia. The group is headed by Mamuka Ghlonti, the owner of the Maestro cable station, which is engaged in a high-profile battle with the Georgian National Communications Commission over its attempts to obtain a licence to broadcast political programming. Opposition parties have also pledged support and collected money for Kavkasia.
Jangirashvili views Kavkasia's role as Georgia's last remaining independent TV station available to a large numbers of viewers as "extremely important" given the "pathetic" state of the Georgian media as a whole.
She says Georgia never escaped the traditional Soviet notion of the journalist as a "propagandist and agitator," noting that during the post-Soviet period even many media outlets not under the control of the government were still being used as "weapons to achieve political aims."
Because of this, she laments, the Georgian media has failed to perform its most central function—providing oversight on the activities of the government.
Jangirashvili and Akubardia seem convinced of the rightness of their cause and vow to stay on the air by whatever means necessary. "Now we're thinking about survival rather than development," Jangirashvili said.
"They've taken everyone down but us, and beyond us there is no one left."