Tbilisi welcomes Western role in conflict resolution against Russian criticisms
By Mikheil Svanidze
Friday, July 18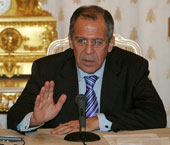 President Mikheil Saakashvili welcomed international aid yesterday in resolving the Abkhaz and South Ossetian separatist conflicts.
"[The German foreign minister's visit to Georgia] is a continuation of the process which started by the visit of [US Secretary of State] Condoleezza Rice, with activation of the process of international diplomatic initiative," Saakashvili said at a press conference in Batumi.
Earlier yesterday, the Russian foreign minister accused "Western partners" of stalling Moscow's push for Georgia to sign a non-use of force agreement for its separatist conflicts.
"[Work on signing a non-use of force agreement] was blocked due to the outright refusal of our Western partners to demand that the parties immediately agree on the non-use of force," Lavrov told reporters in Moscow.
He called international pressure to speed up the return of refugees from the conflicts "unreal."
"Signing a treaty on the return of Georgian refugees needs the situation to be calmed first, restoration of trust, and only afterwards will there be a possibility to consider this [treaty]," Lavrov said.
Georgia's Saakashvili called Russian foreign minister's comments "shameless."
"[A non-use of force pact] is a pointless initiative, as Georgia is not planning to attack anyone," Saakashvili said. "The world community will not accept such a barbaric decision."
Parliamentary Speaker Davit Bakradze, who was meeting visiting German Foreign Minister Frank-Walter Steinmeier, said Lavrov's statement was "unconstructive."
"This is the first time when the Russian foreign minister personally makes statements which contradict with all the UN resolutions and with all the bilateral agreements signed by Georgia and Russia on the necessity of return of refugees, and that is very unfortunate development," Bakradze said after his meeting with Steinmeier.
Moscow has been pushing Georgia to sign a non-use of force pact in the Abkhaz conflict and to remove its forces from Kodori Gorge, the only Abkhazian territory under Georgian government control.
Tbilisi says only police officers, allowed by ceasefire agreements, are in Kodori. While officials have suggested a non-use of force pact is a possibility, it is held out as a bargaining chip to be signed only after Georgia's own conditions are met.
A spate of violence and alarmed statements from all sides in the last few months have stepped up tensions and galvanized urgent international diplomatic action, including the German foreign minister's visit.
Kakha Lomaia, secretary of Georgia's National Security Council, said Tbilisi would consider a Berlin-backed peace plan in combination with Georgia's own plan, announced earlier this year in a presidential speech but flatly rejected by the Abkhaz.
"These two plans can be compatible and by their merger we can produce a realistic plan," Lomaia said on a Georgian television talk show.
De facto Abkhaz president Sergey Bagapsh said this week he read the plan but "can't consider this plan in the condition it has been presented today."
Meanwhile the Russian foreign minister and US Secretary of State Rice spoke on the telephone about a range of issues yesterday, "including the problems of Georgian-Abkhaz and Georgian-South Ossetian conflict resolution," according to Russian Ministry of Foreign Affairs website. Their deputies held telephone talks as well.
In a Russian Foreign Ministry statement, Moscow said its officials emphasized the importance of signing a non-use of force agreement and removing Georgian troops from Kodori.
"This would create a favorable atmosphere for releasing the tension," the statement reads.