Georgia, running military exercises, protests Russia's own wargames
By Temuri Kiguradze
Friday, July 18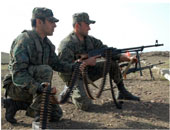 Tbilisi is up in arms over Russian wargames now ongoing near the border with Georgia.
More than 8 000 soldiers and 700 heavily-armored vehicles along with air forces and landing troops are taking part in the Kavkaz-2008 military training, which will also involve air forces and paratroopers, according to Russian news agency Interfax.
"Considering the escalation of the situation in the Georgian-Abkhazian and Georgian-Ossetian conflict zones, [the soldiers] will also practice participation in special operations for peace enforcement in the conflict zones," Igor Konashenkov, aide to the Russian Infantry Forces commander, told Russian reporters.
On July 16 the Georgian Foreign Ministry released a statement protesting the wargames. The statement quoted the commander of Russia's North Caucasian military district saying "his troops are ready to assist peacekeepers" in Abkhazia and South Ossetia if violence flares.
"[This] can be viewed as a continuation of the aggressive policy the Russian Federation has been pursuing against Georgia in the recent period," reads the statement from Tbilisi, which also "urges the Russian side in the strongest terms to refrain from irresponsible statements and stop its aggressive policy against Georgia."
The Russian military trainings are going on at the same time as wargames within Georgia. About 2 000 troops, including some from Azerbaijan, Armenia and Ukraine are conducting exercises at the Vaziani military base near Tbilisi.
Called Immediate Response-2008, the manoeuvres are reportedly sponsored by the US Pentagon to the tune of USD 8 million.
Konashenkov, the Russian infantry officer, denied any connection between the timing of the two exercises. "The [Kavkaz-2008] manoeuvres are not connected to any activities including Georgian military trainings," he told reporters, pointing out that they have been in the planning since last year.
Irakli Aladashvili, editor-in-chief of Georgian military analyst newspaper Arsenal, says Moscow makes a habit of conducting military trainings near Georgia's borders when the separatist conflicts heat up.
"Of course, any country has the right to conduct military trainings any time it wishes, but the gathering of the military forces on the border of Georgia and the statements about the readiness to assist the peacekeepers in South Ossetia in case of conflict can be evaluated as a direct threat," Aladashvili said.
The Georgian-based wargames were also planned since last year, he said.
Tensions have been at a high in breakaway Abkhazia and South Ossetia for months, as violence and bellicose rhetoric from both sides have prompted an international diplomatic push to calm the region.