Russia and Iran to work jointly on Iranian energy projects
By M. Alkhazashvili
Translated by Davit Kipiani
Monday, July 21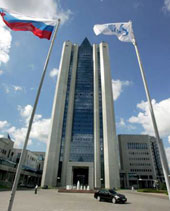 Russia's Gazprom agreed last week to cooperate with Iran's state oil company National Iranian Oil Co. on oil and gas projects in Iran.
Gazprom representative Alexei Miller met a number of officials in Tehran including Iranian President Mahmoud Ahmadinejad to discuss "the possibility of [a] mutually advantageous long-term partnership between Gazprom and Iran," Gazprom said in a statement.
The news agency Bloomberg reported that Iranian Oil Minister Gholamhossein Nozari said he has presented a plan to Gazprom for cooperation on developing Iranian gas and oil fields.
"We have proposed a complete package to Russia for the development of oil and gas fields, construction of refineries and the transfer of oil from the Caspian Sea to the Sea of Oman and believe that it's a very good package for both Iran and Russia," Nozari said.
Since coming to power earlier this year Russian President Dmitry Medvedev has visited Kazakhstan, Turkmenistan and Azerbaijan to discuss energy issues. The US and EU are vying with Russia for control of Central Asian energy routes.
One major project backed by both the EU and US is the planned Nabucco pipeline that would take Central Asian and Middle Eastern gas to Europe.
Nabucco project officials have expressed interest in pumping Iranian gas through the pipeline. But last month top US diplomat to the region Matthew Bryza said Washington would strongly oppose Iranian involvement in the project.
Some estimates put Iran's total natural gas reserves at 23 trillion cubic meters.