German foreign minister wraps up visit, no visible progress on peace plan
By Mikheil Svanidze
Monday, July 21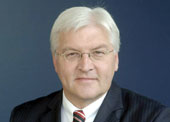 German Foreign Minister Frank-Walter Steinmeier's trip to Georgia and Russia last week left no visible progress on a Berlin peace plan for Abkhazia. All sides remain at loggerheads over what is needed for peace talks to resume.
But Steinmeier, who met with Georgian, Abkhaz and Russian officials on his two-day diplomatic push to bring a semblance of peace to the region, emphasized that the plan is only in its beginning stages.
"What we have is a draft. That is how we see it. What we need to do now is to turn the draft into a document based on which we can work in the future," he said.
The full details of the plan are not public, but reports from Der Spiegel and the Georgian government say it includes provisions for rehabilitation work in the conflict zone, the return of refugees and eventual consideration of Abkhazia's political status.
Drawn up by Berlin, the plan has been presented on behalf of the UN secretary-general's Group of Friends of Georgia.
The plan has been cautiously welcomed by Tbilisi, although government officials say it needs some adjustment, including a reiteration of Georgia's territorial integrity and a clause identifying Russia as a party to the conflict.
Speaking at a joint news conference with Steinmeier near Batumi on July 18 President Mikheil Saakashvili repeated criticism of Russian and Abkhaz demands for the signing of a non-resumption of hostilities pact, which he branded pointless, as Georgia has "no intention" of using force against its own citizens.
He also reiterated Tbilisi's demand for the unconditional return of refugees, a point reinforced by Malkhaz Akishbaia, head of the Tbilisi-backed Abkhaz government-in-exile, the same day.
Akishbaia told journalists the practical settlement of the conflict was impossible without launching a process of refugees return.
But de facto Abkhaz president Sergey Bagapsh said the return of refugees to the region "could lead to a new war," after he met Steinmeier on Abkhaz-controlled territory on July 18.
He also said the separatists had rejected the Berlin-backed plan, but suggested that if it was amended to require Georgia to sign a non-resumption of hostilities pact and withdraw troops from the Kodori Gorge, it would be "possible to begin negotiations."
The Georgian government maintains that only police forces patrol the Kodori Gorge, the only territory in Abkhazia that is under Tbilisi's control.
Meanwhile, in Moscow, Steinmeier's Russian counterpart Sergey Lavrov said the plan was a "step in the right direction," but that an agreement on the return of refugees was "unrealistic at this stage"
Russian President Dmitry Medvedev, who also met Steinmeier, reiterated the Abkhaz separatists' demands.
"It was emphasized [at the meeting with Steinmeier] that the only way out of the situation is to work on joint documents on the non-use of force treaty and security guarantees and withdrawal of Georgian military forces from the upper part of the Kodori Gorge," a statement on the Kremlin website reads.
Political analyst Archil Gegeshidze says German involvement is a good sign but it is too early to tell how much potential the plan has.
"It is good that talks have started, but no result has been achieved yet, as Abkhazia blocked it. The second round of negotiations will show how useful the plan is," Gegeshidze said.
He added that the thorny issue of political status needs to be dealt with delicately.
"A diplomatic vocabulary must be found, such as a transitional statement, so talks do not become frozen again and Georgia's territorial integrity is not infringed," he said.
Meanwhile, separatists in Georgia's other breakaway region, South Ossetia, rejected an EU proposal to hold talks with Tbilisi in Brussels tomorrow.
Separatist official Boris Chochiev said there were two main reasons for South Ossetia's decision. First, he said South Ossetian de facto authorities object to North Ossetia not being invited to the talks.
Secondly, Chochiev said that the separatists refuse to negotiate with Georgia's state minister for reintegration issues, on account of his official title. Until January this year, the position was state minister for conflict resolution issues.