Georgia looking for international support at UN Security Council session
By Temuri Kiguradze
Monday, July 21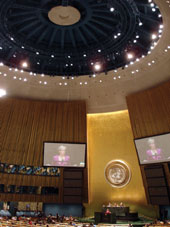 Tbilisi is hoping for a show of international support at a UN Security Council session on a recent Russian flyover of Georgian territory, scheduled for today.
"We think there will be a serious discussion at the meeting and the Council will make the appropriate evaluation," Georgian Ambassador to the US Vasil Sikharulidze told journalists.
The session is being convened at Tbilisi's request after Moscow acknowledged on July 10 that Russian military aircraft flew over Georgia's breakaway region of South Ossetia two days earlier.
Russian officials said the flyover was a preemptive warning against violence in the region. Tbilisi reacted with outrage and promptly recalled its ambassador from Moscow.
Georgian officials say the convening of the session already represents some success for Tbilisi.
Quoted in the newspaper Alia Parliamentary Speaker Davit Bakradze said there are no expectations of a resolution being passed, but the session is "very important because the members of the council openly protest Russia's aggression."
Temur Mzhavia, of the Tbilisi-backed government-in-exile of Abkhazia, Georgia's other breakaway region, said he was confident Georgia would "win this round of confrontation."
"Just the fact that Russia's aggression is being discussed at a session of the UN Security Council is a great political success," he said.
A statement from the Georgian Foreign Ministry said the session underlines international concern over Russia's actions.
"The convening of the UN Security Council's special session in such an emergent manner clearly points to the international community's extreme concern over the Russian side's irresponsible, provocative and totally unacceptable acts," the statement reads.
Last week the Russian Foreign Ministry branded Tbilisi's request for the session as an attempt "to stir up anti-Russian sentiment at international fora," according to online news source Civil.ge.
But Moscow has also expressed readiness to discuss its actions in the Security Council.
Georgian political analyst Ramaz Sakvarelidze said the session would not bring any radical change to Russian-Georgian relations.
But that the session is being convened at all is important for Georgia, he said.
"This meeting will help Georgia in its attempts to prove to international society that Russia is not a neutral party in Georgia's conflicts," he told the
Messenger.
Russia submitted its own draft resolution to the UN Security Council on July 8, which called on Georgia to sign a non-use of force agreement with the separatist Abkhaz and South Ossetian administrations.
"At this point, we believe that [signing the agreement] is an absolute must if we are to hope to see some political progress and restoration of trust," Russian representative to the UN Vitaly Churkin said then.