Conflicts minister gets new title to smooth talks
By Mikheil Svanidze
Wednesday, July 23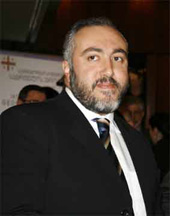 The country's top minister for conflict issues picked up an additional title yesterday in a move aimed at easing negotiations with separatists in Georgia's breakaway regions.
State Minister for Reintegration Issues Temur Iakobashvili is now also the president's special representative for conflict resolution.
"With this move, we created comfort for the people who were uncomfortable with the word 'reintegration,'" Iakobashvili told the Messenger.
Iakobashvili said he already had the decision-making powers he needs before being given the additional title.
De facto officials in the separatist enclaves of Abkhazia and South Ossetia had expressed discontent with the inclusion of "reintegration issues" in the title of the state ministry, which until January was the state ministry for conflict issues.
South Ossetian separatist authorities refused to take part in negotiations scheduled for this week in Brussels citing, among other considerations, the state ministry's current title.
Attempts to reach a spokeswoman for the South Ossetian separatist administration were unsuccessful.
Tbilisi is pushing for a format change in negotiations with South Ossetia. It wants the North Ossetian delegation to be replaced by three new delegations from the OSCE, EU and the Tbilisi-backed alternative South Ossetian administration.
But South Ossetian separatist leader Eduard Kokoity reiterated yesterday that North Ossetia's involvement in talks is "essential."
"[South Ossetia confirms again] its devotedness to peaceful resolution of the conflict and the restoration of the negotiating process with essential involvement of the Republic of North Ossetia – Alania," the South Ossetian separatist press and information committee quoted Kokoity as saying.
The Georgian Interior Ministry confirmed yesterday that Georgia released two of the four Ossetians detained the previous day on Tbilisi-controlled territory.
Interior Ministry spokesman Shota Utiashvili said two of the detainees remain in custody and will be charged on drugs and weapons offences.
Any detainee, according to law, must be officially charged within 48 hours of their arrest.
The South Ossetian side claims the detention was retaliation for the arrest of a Georgian citizen in Tskhinvali, but Tbilisi denies any links between the arrests.
"We aren't negotiating anything, we just demand the release of an innocent man [the arrested Georgian]," Utiashvili said.
According to the South Ossetian information committee, OSCE observers and peacekeepers observed the release of the two Ossetians.