Top officials arrested for bribe-taking
By Temuri Kiguradze
Thursday, July 31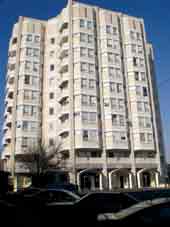 Authorities arrested two top officials in the Economic Development Ministry yesterday on charges of taking a USD 350 000 bribe in a corrupt land deal.
Police arrested Deputy Economic Development Minister Beka Okrostsvaridze and deputy head of the ministry's privatization department Lasha Moistrapishvili in their offices.
"The bribe was [for] the privatization of state property. The briber was promised land and real estate on the Tbilisi–Rustavi highway at a price lower than [officially set]," Interior Ministry spokesman Shota Khizanishvili said.
"For a special operation marked banknotes were used during an [exchange of money]," he added, declining to give further details on the investigation, which is continuing.
The alleged briber was also arrested. Tamaz Machaladze is founder of the New Style real estate company. The company was created ten years ago and is involved in real estate deals in the capital and other Georgian regions, according to its website.
A New Style representative declined to comment on the arrest.
The Interior Ministry spokesman said crooked privatization deals "are not frequent." But some critics say Georgia's vigorous privatization drive breeds graft.
The process is "totally non-transparent" says Gia Khukhashvili, president of the Georgian Economic Security Association. "In many cases objects to be privatized are sold without proper procedures, without auctions or tenders," he says.
He cited the privatization of the Georgian Railways and state-owned power plants as examples of contentious sell-offs.
Last summer officials announced the sale of management rights for the state's Georgian Railways to Parkfield Investment Ltd., an unknown company with anonymous backer, but within months the deal was off and a new tender opened with little explanation.
And after the Czech Energy-Pro sealed a deal early last year to buy a large portion of Georgia's energy infrastructure, the company ultimately paid far less than stipulated in its winning bid, according to a report from the online EurasiaNet news service. Tbilisi officials said Energy-Pro signed onto an additional investment package that made up for the difference.
"This kind of unhealthy situation makes lower rank officials act on their own and try to get their share," Khukhashvili said.
The arrests are the second prominent case this month. Earlier, a Health Ministry official was arrested in his office in front of news cameras. In summer and fall 2007, a string of corruption arrests surrounded the entry of an ex-defense minister into opposition politics. He was later arrested as well.