Tbilisi accuses Russia of 'stalling for time' on Abkhazia talks
By Mikheil Svanidze
Thursday, July 31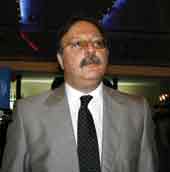 Georgian officials yesterday accused Russia of stalling attempts at peace talks between Tbilisi and breakaway Abkhazia.
At a press conference yesterday, Deputy Foreign Minister Grigol Vashadze said Russia is not interested in peacefully resolving the Abkhazian conflict.
"You all know that Russia is stalling for time, a tactical move to sustain the status quo," Vashadze said. "The only side that is not interested in the peaceful resolution of the [Georgian-Abkhaz] conflict is Russia."
He was speaking in response to a statement earlier this week from the Russian envoy to the UN, who suggested more time was needed to prepare for peace talks. The Georgian official accused Moscow of dragging its feet as part of its strategy for controlling the situation in the breakaway region, where it formally holds the role of lead peacekeeper.
"No serious international player doubts that Russian Federation is a side of the conflict, and not only a side, but a main initiator of what happens in Abkhazia," Vashadze said.
Russia's ambassador to the UN, Vitaly Churkin, had said any conflict talks need extensive preparation.
"We believe that this [Abkhazia peace talks] has to be well prepared and the parties must also be invited to that meeting, if they are willing to come," Churkin said after a UN Security Council session on July 29, referring to a proposed meeting of the UN secretary-general's Group of Friends of Georgia in Germany which would include Abkhaz and Georgian representatives.
Georgia has explicitly expressed readiness to engage in talks with the Abkhaz in any format. Abkhaz officials reject direct talks with Georgia unless preconditions are met: the withdrawal of Georgian forces from the Kodori Gorge in Abkhazia, and the signing of a non-use of force agreement.
Churkin reiterated the call for Georgia to sign the pact.
"It is our very firm conviction that the first step [in Georgian-Abkhaz conflict resolution] should be an urgent signing of that agreement on non-use of force in the Georgia-Abkhazia conflict area," Churkin said.
But Abkhaz officials said this week a meeting under the auspices of the Group of Friends, which includes Russia, is a possibility.
"We are ready to meet with the Group of Friends starting from mid-August, on a date desired by the Georgian side," Abkhaz de facto foreign minister Sergey Shamba said on July 28.
A Berlin meeting would include no small share of contention. Yesterday the Russian envoy accused his nation's colleagues in the Group of Friends of trying to "gloss over difficult moments and difficult aspects of the situation," referring to what Russia sees as their reluctance to consider Georgian "provocations" in the breakaway region.
Russia has accused Georgia of contributing to tension in the conflict zone by flying unmanned spy drones and building up its forces from Kodori Gorge, a Georgian-controlled enclave within Abkhazian territory.
Churkin, the Russian envoy to the UN, expressed discontent that the UN Security Council failed to consider a Russian draft resolution on Georgia submitted July 8.
The principal point of the draft resolution was an immediate call for Georgia to sign the non-use of force agreement.
Moscow also tried to arrange a statement from the UN Security Council's Vietnamese-held presidency on the issue, but Churkin was not optimistic the statement was to come out.
"We are in a situation that I cannot predict a successful outcome [of the presidential statement]," Churkin told reporters.