'Anti-fat water' promises to shed pounds
By Shorena Labadze
Thursday, July 31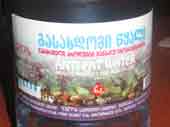 Like anywhere else, Georgia has its fair share of diet fads. Georgians packing a few more pounds than they would like experiment with the "Ugulava diet," named in honor of capital's mayor, or the "English diet" in bids to slim down and shape up.
One of the more eyebrow-raising diet wonders to hit shelves is the Guno pharmaceutical company's "Anti-Fat Water," described on the bottle as a "health product for health life."
At GEL 1.20 for a liter, Anti-Fat Water is about 30 percent pricier than most bottled water on offer, but promises noticeable results in two to three weeks if 1.5 to 2 liters are consumed daily.
"Anti-Fat Water will have optimal results if a person eats fewer calories and slightly exercises," the accompanying mini-pamphlet advises.
A company representative said the water is perfectly safe and contains L-carnitine, a nutrient that helps convert fatty acids into energy and is often marketed as a weight-loss supplement.
But a scientific study conducted by the University of Maryland Medical Center concludes that "there is no scientific evidence to date to show that it [L-carnitine] improves weight loss."
The Guno company representative said the water has been on sale for three or four months, and is not exported abroad.
Prominent diet expert Elene Giorgadze said she hadn't heard of water that promises weight loss.
"This is the first time I've heard about it, so I can't comment. I've never used such water in my practice—I generally use ordinary water," Giorgadze said.
Republican Party member Levan Berdzenishvili, who has had his own battles with weight in the past, was more skeptical.
"The role of water during the diet process is important, of course. But one shouldn't trust in water sold in the supermarkets [to help lose weight]. It is simply a cheap commercial way of making money," he said.
Meanwhile pop singer Mamuka Onashvili, well-known for his large frame, says that Georgians simply need to cut back on the rich food they are so fond of.
"Everyone knows that calories aren't good for health and getting them must be reduced. But Georgians like good food and sometimes we make excuses for ourselves that this is our fate. In reality, we are gourmands in character and that's why most Georgian men are paunchy," he says.