Tbilisi government marks Street Cleaners' Day, gives benefits to workers
By Shorena Labadze
Friday, August 1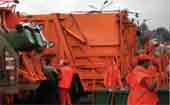 Officials handed out medical insurance polices to 2 500 Tbilisi street cleaners yesterday on Georgia's third annual Street Cleaners' Day.
One representative of the city cleaning service, who asked for anonymity because he was not authorized to speak to reporters, said the insurance package covers medical expenses up to GEL 10 000.
"Unfortunately it doesn't include dental treatment," he added.
The insurance packages, which are financed by Tbilisi City Hall, were presented by Tbilisi Vice-Mayor Mamuka Akhvlediani and the head of the
sakrebulo
, or city council, Zaal Samadzshvili.
The city's cleaning service was set up in 2006 and earlier this year the private company Tbilservis Group won a tender to manage the city's cleaning operations.
Teams of 30 to 40 cleaners are sent out into the parks, squares and other public places, including the litter-strewn Tbilisi Sea, an artificial reservoir popular for swimming and sunbathing.
"Tbilisi Sea is a very big problem for us at the moment. We can barely manage to clean the sea line. People don't help… They litter the area terribly," director general of Tbilservis Group Giorgi Khuchua said.
There is a hotline that Tbilisi residents can dial any time they see an environmental problem in need of urgent attention.
The insurance packages are the latest of a number of incentives dolled out by the government to city workers.
Street cleaners became entitled to free public transport shortly before the January presidential election; separately, those with large families received a one-off gift of GEL 1 500. There is also an annual award ceremony to acknowledge the most diligent operators.
"It is judged according to the quality of work they do. We choose the winner by seeing how many complaints are called in from their district," Director General of the Tbilservis Group Giorgi Khuchua said.
He also says that last year Tbilisi City Hall spent GEL 2 million on equipment and uniforms for street cleaners and imported European garbage trucks.
The minimum monthly salary for a street cleaner is GEL 250 but pay scales are dependent on the district and the type of work. Garbage truck drivers can make GEL 500.
Prominent Republican Party member Levan Berdzenishvili criticized the relatively high salary that street cleaners receive.
"I appreciate all work of course, but it really is a problem when a teacher earns less than scavengers, barmen and street cleaners," he said.