President praises 'firm authority' of Church as Patriarch of Alexandria visits
By Shorena Labadze
Tuesday, August 5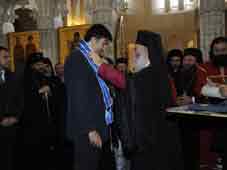 It has been a week since the arrival of the Pope and Patriarch of Alexandria and All Africa Theodore II, whose visit to Georgia is scheduled to culminate on August 7.
According to the Patriarchate's press speaker, the Pope has "come to honor Georgia's chief religious leader, Catholicos-Patriarch Ilia II."
The original invitation was extended last April to commemorate the 30th anniversary of Ilia II's Patriarchate, but as Theodore II was unable to attend a later date was set to coincide with the day of Saint Ilia the Righteous, celebrated on August 2.
In addition to a solemn liturgy conducted by Ilia II and Theodore II last Sunday in connection to holy relics, the Pope presented the remains of Saint Matthew the Mediator which were exhibited at Sameba church in Tbilisi and Svetitskhoveli in Mtskheta. Parishioners had the opportunity to kiss the skull of the saint, considered an important rite of veneration for Orthodox Christians.
Also in attendance at the ceremonial mass was Georgian President Mikheil Saakashvili.
In his speech addressing the Pope, the president highlighted that the increasing frequency of such visits reflects "a firm authority of the Georgian Church and its leadership in the Christian world," and added that the Patriarch "led Georgia for tens of years during its rise, advance and now reintegration."
Speaking about the role of church in the revitalization of the state, Saakashvili stressed that the ties between Christian nations must be firmer.
"We must do our best to reaffirm our spiritual connection as the basis of better relationships and cooperation within the community," Saakashvili said. He also met privately with the religious leaders, who gifted the president with holy icons.
Between meetings with legislative and executive government representatives, the Pope of Alexandria and All Africa was decorated by Ilia II with the highest merit of the Georgian Church: a gold order blessed by Saint George. He in turn honored the Patriarch with a holy cup from Egypt.
There is talk between the Patriarchs of conducting joint religious liturgies in several churches throughout Georgia.
The Pope finishes out his journey with impressions of hope and optimism: "I will go back to Egypt happy that I have seen that the country is in the process of developing. Visiting here is a great mercy for me. As soon as I return to Egypt, I will light a candle and pray for Georgia."