South Ossetia tense after deadly clashes
By Temuri Kiguradze
Tuesday, August 5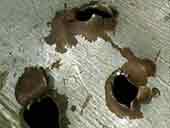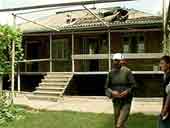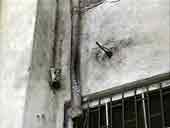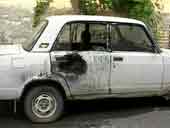 The separatist region of South Ossetia is quiet but on edge after a weekend of the most severe violence in years.
Sunday night passed with "relative calm," according to Maia Kharebova, press secretary of the South Ossetian separatist press committee.
Kharebova said the only incident was continuous shooting from "Georgian sniper" at a South Ossetian militia post near the southern edge of the de facto capital Tskhinvali. She said there were no injuries.
Tbilisi officials say there was no military activity that day.
"There were no snipers in Tskhinvali, neither on August 4 or on earlier days," said Georgian Interior Ministry spokesman Shota Khizanishvili. He also denied reports of Georgian artillery units deployed near Tskhinvali.
South Ossetian separatist officials claimed the Georgian artillery deployment on August 3, after a two-day shootout in the conflict zone that took six lives and left more than 20 injured. Separatist authorities in the region said they were evacuating women and children to Russia's North Ossetia.
Georgian peacekeeper chief Mamuka Kurashvili told reporters that a monitoring group has begun an investigation into the clashes.
Kurashvili said early results found no signs of artillery attacks on separatist-controlled territory, contradicting separatist claims that Georgians used mortars in battle.
He also said that South Ossetia organizes holidays for children every summer, and the portrayal of this year's departures as an evacuation is a ploy to escalate tension.
A North Ossetian official confirmed to Russia's Interfax news agency that the Ossetian children are headed to his republic for their summer holidays.
Georgia's top conflict issues official said Tbilisi is ready for direct talks with South Ossetian separatist authorities, but that the current negotiation format is "inefficient" and geared toward preserving the status quo.
"We had negotiations with Russia and we may resume the peace process in Tskhinvali region soon, but not in the frames of the so-called JCC [Joint Control Commission], but in another format," State Minister for Reintegration Issues Temur Iakobashvili told reporters after a government session yesterday.
South Ossetian leader Eduard Kokoity said yesterday he is ready to talk but only within the JCC format.
"We want to protect the peace through the process of the negotiations, but if there are no more options left we will conduct the actions necessary to finally solve this problem," said Kokoity, as quoted by the South Ossetian separatist press service.
Separatist interior minister Mikheil Mindzaev, in an interview published by Georgian newspaper
Akhali Taoba
, said that South Ossetia is ready to launch attacks on the Georgian towns of Gori, Kareli and "one of the resort areas" if Tbilisi continues "its provocations."
Last year Georgia said it would no longer participate in the Joint Control Commission, a format for South Ossetia conflict talks which seats representatives from Georgia, Russia, North Ossetia and South Ossetia.
Tbilisi, which says the Joint Control Commission is unbalanced, proposed a new format which would leave out North Ossetia in favor of international organizations and a Tbilisi-backed alternative South Ossetian administration. Tskhinvali says that format is not an option.