Svans guarding Tusheti: A weekend with Georgian border guards
By Mikheil Svanidze
Tuesday, August 5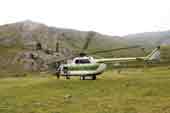 "Is there life on Mars?" asks a hung-over Georgian military analyst as he wakes up in a Border Police tent far, far away from home.
I found life in Girevi about 2000 meters above sea level, but it may yet become one of the many forlorn settlements in the Caucasus.
I was there as part of a small group of journalists and analysts the Georgian Border Police took to one of their most inaccessible outposts this weekend.
We took a helicopter from a Border Police post near Tbilisi's airport to the Tushetian village of Girevi, a small settlement of about 50 people some seven kilometers from the Russian border. Tusheti is one of Georgia's mountainous regions, set below the Russian provinces of Chechnya and Dagestan.
Like many Tushetian villages, there are no permanent residents in Girevi—people come up in early summer and leave in the fall to a settlement lower down the mountains.
The only reasonable way to reach Girevi is by helicopter: the dirt road is rendered useless every year by a swollen river, according to the border guards. It is a roughly six-kilometer walk or horse ride from the village in the valley below where the road ends. But an impassable trek to us is a serviceable road to the locals.
"I come here every summer to take care of my cows, but it is harder every year. My children try to persuade me not to come here anymore, but I love this place and don't want to leave," 60-year-old Lili Ashadze of Girevi said.
"I am an old woman, and if there won't be a road much longer I might not be able to come at some point."
There are tens of forlorn villages scattered throughout Tusheti as logistics remain a large problem.
The border guards count 5 000 in their ranks, all on contract, according to Aleksandre Chubinidze of the Border Police press service.
The infamous Pankisi Gorge is about 30 kilometers away. The region patrolled by the Girevi border guards includes one of the routes Chechen paramilitary fighters took when they sought refuge in Pankisi in the early 2000s.
Colonel Koba Bochirishvili acquaints us with the local outpost commander: "Here's a Svan guarding the Tushetian mountains."
"There haven't been many cases of border violations in last three years," says the Svan, Colonel Grigol Oniani. "There were individual cases of people lost, but nothing big."
Two border guards do a ganstesi, that is, patrol three different directions to the border twice a day. Following them means a grueling 14-kilometer, nine-hour walk up and down the mountain slopes.
Three journalists, two Border Police officials and Colonel Aleksi Talakhadze join the patrol up the endless grassy slopes.
I look through binoculars toward the most vulnerable pass on the border in our sector, but there is not a living thing to be seen. Everything seems under control.
Shamil Kortoshidze is head of the Border Police's aviation branch and an ace pilot. He lands his helicopter alongside the river as he spots our exhausted group a kilometer from Girevi. We get in and fly the final length to home base.
Colonel Talakhadze, an erudite and calmly commanding man, tells me about Tushetian traditions, a remarkable blend of pagan mythology and Christianity.
Some of the older houses in Girevi and a neighboring village are thought to be the work of a superhuman pagan deity known as
bachachua
.
According to legend, one Girevian wrestled
bachachua
into submission, removed a nail from his thumb and stored it in his scabbard.
Bachachua
lost his power, and the Girevians put him to work building the stone houses which still stand tall.
The Border Police have a
bachachua
of their own in the guise of the OSCE, who were stationed in Girevi until 2006 and built a well-equipped base which they turned over to the Georgians.
An important aspect of Tushetian life is the festivals. Almost every village has its own. Girevi's is set for August 9, but preparations have already begun.
At eight in the morning, a heavily drunk local comes around with a big wooden sword and taps everybody on the rear as a blessing.
The jester-like man, called
makalati
, is chosen by each family. He cannot enter any building during daylight hours for the space of a week, as he walks around with a sword blessing everyone he sees.
"Saakashvili is my brother-in-law,"
makalati
slurs.
Our
makalati
was taken away by one of the border guards, a Tusheti local.
The defense towers of the old Tushs were built in the 16th or 17th centuries by the people of Dagestan, who were renowned for their building skills.
"There was a lot of communication and war between the Tushs and the Leks in the old times. Leks came to steal the cattle, the Tushs went over to avenge, but there is none of that after the border came under control," Border Police Major Mouravidze says.
At the time the region's currency was cows: one tower cost 60.
Hostage-taking between the Tushs and Dagestan groups who the Tushs refer to as the Leks, according to Major Mouravidze, was a common practice up until the 1920s. The price for a male hostage was 15 cows. It cost seven cows to get back a female.
Down at the base, four trekkers from Estonia settle in to a shared meal with the border guards.
"I was here two years ago with many friends and was amazed by these mountains. So I decided to do it again," said Allen, one of the trekkers.
Lt. Gen. Badri Bitsadze, head of the Georgian Border Police, drops me and another journalist home as we return to Tbilisi in the evening. I burst with fatigued gratitude as the tireless Bitsadze drives straight to the office after a two-day long inspection of the Girevi outpost.
My last impression was the songs of the upbeat Girevians, who in spite of their challenges remain hopeful that everything is for the better.