More fighting in South Ossetia, talks uncertain
By Temuri Kiguradze
Thursday, August 7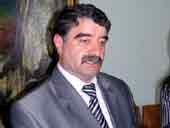 Georgian and separatist troops clashed against yesterday in breakaway South Ossetia as the region's separatist leader said he would not sit for direct peace talks arranged after severe violence in the last week.
South Ossetian separatist officials accused Georgian snipers in the state-controlled village of Nuli of targeting nearby secessionist-controlled areas around midday, and later said clashes escalated as Georgian troops tried to take strategic heights near the village. Yesterday evening the South Ossetian separatist defense ministry claimed to have forced back Georgian troops from the heights near Nuli.
Georgian Interior Ministry officials said their troops were forced to return fire after South Ossetian forces attacked the Georgian village, and downplayed the extent of the violence.
"This incident is largely exaggerated by Ossetians, in fact nothing serious has happened there," Georgian Interior Ministry spokesman Shota Utiashvili told the Messenger. "[The South Ossetians] opened fire towards Georgian villages. After several warnings we had to open fire and then they finally stopped."
He said no one was injured during the clash, and dismissed a separatist claim of a destroyed Georgian armored troop carrier as "ridiculous."
South Ossetia's separatist leader said he would not meet senior Georgian officials today for direct peace talks in the de facto secessionist capital, as Tbilisi had announced earlier in the week.
"The provocative statement of [Georgian State Minister for Reintegration Issues Temur] Iakobashvili ruined the negotiation process. Statements claiming that this [meeting in Tskhinvali] is a new Georgian success which has finally broken the [Joint Control Commission] format do not correspond to the truth. We can say beforehand—there will be no bilateral negotiations with Georgia," said separatist leader Eduard Kokoity, according to a report from the separatist press committee.
He said any talks must be within the Joint Control Commission, a negotiation format Georgia opposes as being lopsided in favor of Russia, which Tbilisi says is responsible for propping up the separatist regimes in Georgia's two breakaway territories.
Russian news reports said the country's envoy for the South Ossetia conflict left for Tbilisi yesterday to arrange the talks. The Russian Foreign Ministry is in contact with both South Ossetian and Georgian leaders, a representative said.
Last weekend South Ossetia suffered its worst violence in years, leaving six dead amid mutual accusations of shelling civilian areas and advances on strategic positions in the breakaway region, which is a patchwork of secessionist- and state-controlled villages.