BTC fire halts oil flow
By Mikheil Svanidze
Thursday, August 7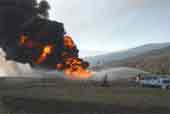 The major Baku–Tbilisi–Ceyhan oil pipeline shut down yesterday after a Turkish section erupted in fire.
The fire began two nights ago near the town of Refahiye in the Erzincan province of eastern Turkey. According to some reports, the height of the fire reached 50 meters, endangering nearby forests.
The cause of the fire is still not publicly known, but Turkish officials surmise it began after a malfunction in the system.
Kurdish rebels operate in the region, and last March saw an explosion on a pipeline between Turkey and Iran, with the militant Kurdistan Workers Party, PKK, claiming responsibility. A news agency closely linked with the group told Reuters that this week's fire may too have been a PKK attack.
Project representatives say the fire is under control but still blazing as of last night.
"The fire is at one of the valves along the pipeline. The valves before and after it were shut down, so the fire is isolated," BP spokesman Murat Lecompte told AP.
BP is the largest shareholder of the pipeline, controlling more than 30 percent of the project, which transits around a million barrels a day of Caspian oil.
"There is no talk on immediate financial losses for Georgia or BP at the moment. There are reserves in Ceyhan and the transportation of oil [from Ceyhan] hasn't stopped," BP Georgia spokeswoman Tamila Chantladze told the
Messenger
.
She could not say when the pipeline will began functioning again, and could not recall any other shutdowns since the pipeline began operations in 2005.
Georgia expects to collect an average of USD 62.5 million in annual transit fees from the geopolitically significant pipeline, according to a study led by the Central-Asia Caucasus Institute.
The Georgian state-run Special Pipelines Protection Department takes care of the security on the Georgian sector of the pipeline, according to the BP Georgia spokeswoman.
Baku–Tbilisi–Ceyhan started operations in May 2005. It is the second-longest land oil pipeline in the world, covering 1 768 kilometers in Azerbaijan, Georgia and Turkey, and provides a key energy transit route which bypasses Russia and Iran.
Georgian President Mikheil Saakashvili hailed the pipeline as a "firm foundation for freedom, independence and future success" for the countries involved at a 2006 inaugural ceremony.