BTC could be down for two weeks: reports
By Messenger Staff
Friday, August 8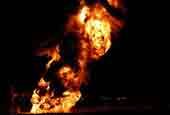 Reopening the Baku–Tbilisi–Ceyhan oil pipeline could take as long as two weeks after a section caught fire in Turkey, an official with Turkey's state-owned pipeline company told Reuters yesterday.
The oil pipeline shut down on August 13, halting the roughly one million barrel a day flow of Caspian oil.
BP has declared force majeure, telling its customers it may not be able to meet contractual obligations on oil delivery.
There is still no official word on the cause of the blaze, though a Kurdish rebel group has taken credit for the fire, which occurred near the town of Refahiye in the Erzincan province of eastern Turkey. Turkish pipeline officials had early suggested a mechanical failure was to blame.
BP representatives say the fire is under control, but continuing as of yesterday evening.
BP is the largest shareholder of the pipeline with more than 30 percent. Another 25 percent belongs to the Azerbaijani state oil company.
A BP Georgia spokeswoman told the Messenger on August 13 that there is not immediate financial blow to either Georgia, which collects transit tariffs on the oil, or BP, because tankers are still being loaded with reserves at the end of the pipeline.
An extended shutdown, however, could cut oil transit out of Ceyhan.
A BP spokeswoman in Azerbaijan told Reuters that they are looking at alternatives, including diverting oil to Supsa and cutting back on production in Baku.
It is the first incident of its kind since the pipeline began operating in May 2005, the BP Georgia spokeswoman said.
The Georgian state-run Special Pipelines Protection Department takes care of the security on the Georgian sector of the pipeline.
Baku–Tbilisi–Ceyhan started operations in May 2005. It is the second-longest land oil pipeline in the world, covering 1 768 kilometers in Azerbaijan, Georgia and Turkey, and provides a key energy transit route which bypasses Russia and Iran.
Georgian President Mikheil Saakashvili, speaking at a 2006 inauguration ceremony, hailed the pipeline as a "firm foundation for freedom, independence and future success" for the countries involved.