Border guards search for missing Latvian climbers
By Mikheil Svanidze
Friday, August 8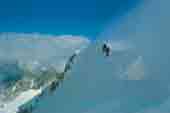 Border Police are searching for three Latvian mountain climbers missing for days in the mountains of Svaneti.
The Latvians, aged 25, 29 and 40, are three of a fifteen-person tourist group traveling around Svaneti. The trio broke off from the group to explore the mountain of Ushba and have not been heard from since August 4.
The remaining members reported the missing climbers to a Border Police checkpoint, which immediately sent out a small search group. They began searching August 5; the next day, another twenty border guards joined the search.
According to a Georgian Border Police spokesperson, a one-kilometer-wide sheet of snow fell into the valley near Ushba, a 4 700-meter-tall peak known to be one of the most treacherous and inaccessible mountains in the western part of the Caucasus mountains.
"Personal belongings—a camera and backpacks of the missing people were found in the snow. It is likely that the tourists got buried under the same avalanche," a spokesperson said.
In 2004, two well-known Georgian climbers died on Ushba while attempting an ascent via the Mishlyaev route, considered the most challenging path to the summit.
Zurab Kuchava, a prominent Georgian mountaineer, explains that there is no established search and rescue organization in the region.
"There are scattered groups, but actually there is no rescue service—we do it on a case-by-case basis, with individual forces. A centralized rescue team needs lots of money, and this is probably not in the interest of the people who are in charge [of the country]," he said in an earlier interview.
The Border Police were tasked with the ad hoc rescue operation because the Latvians came to them to report the missing group. Border Police representatives say they hold out hope the missing climbers will be found alive.