Yes, It's War with Russia
By Mikheil Svanidze and Davit Lobzhanidze
Monday, August 11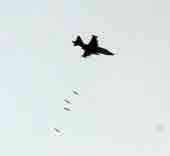 Full-scale war has erupted between Georgian and South Ossetian troops backed by Russian units, after a series of violent attacks in South Ossetia and the aerial bombardment of various Georgian towns. Russian troops had overrun most of the secessionist South Ossetian territory by the evening of August 11, as 300 items of heavy military equipment and about 10,000 troops were deployed in South Ossetia in response to Georgian fire.
Russian peacekeeping forces commander Marat Kulakhmetov declared at about midnight on August 7 that the sides were "practically" at war. Shortly after, Georgian peacekeeping forces commander Mamuka Kurashvili declared that an operation "to restore constitutional order" had started. Georgian forces pounded Tskhinvali all night on August 8 and reportedly took over most of the nearby villages and strategic points. Russian forces flowed in along the 4 kilometre long Roki Tunnel, the only plausible way to get to South Ossetia from Russia.
Georgian troops launched a heavy artillery assault on Ossetian positions in Tskhinvali and nearby villages in the early morning of August 8, reportedly in response to Ossetian attacks on Georgian-controlled villages in the breakaway republic. By Friday morning, Georgian troops had taken most of the surroundings of Tskhinvali and pounded the city, which was then controlled by Ossetian forces. Tskhinvali, the largest Ossetian town with a population of 34,000 as of 1989, was reportedly mostly destroyed, as it had been a target of both Georgian and Russian attacks for three days.
On August 9 the Parliament of Georgia approved a decree which said that Georgia is in a "State of War." The decree was adopted after President Saakashvili's statement in which he accused Russia of violating Georgian territorial integrity. The decree is valid on the whole territory of Georgia, and under its terms war mobilization was announced. "War mobilization is to be announced and the Georgian military force is to be used to deter military aggression," Nika Gvaramia, the Georgian Justice Minister, said while reading the decree. The State of War will remain in effect for 15 days.
Georgian forces took over Tskhinvali on August 9, and their next targets, according to MIA spokesperson Shota Utiashvili, were to be another Ossetian stronghold, Java, and the Roki tunnel. The following morning however, Georgian forces suffered a setback as Russian troops, assisted by heavy military ammunition, took Tskhinvali. Georgian National Security Council chief Aleksandre Lomaia said the subsequent retreat from Tskhinvali was part of a "reorganization" of Georgian troops. President Mikheil Saakashvili announced a unilateral ceasefire after 5 a. m. on August 10.
On August 10 Russian aircraft twice attacked the former "Tbilaviamsheni" aircraft factory's takeoff runway, located in a suburb of Tbilisi, about 500 metres away from a densely populated area. Citizens living near the factory allegedly heard explosions at approximately 6 a.m. and 7 p.m. and left their houses on both occasions. Though this was the first strike on Georgia's capital, Russian aviation had been intensively bombing different cities and regions of Georgia for several days. The areas targeted included the port of Poti, where tens of people were reported dead after an air strike, and military bases in Senaki, Marneuli and Bolnisi.
The province of Racha, to the west of South Ossetia, had been bombed at least three times, with an unknown number of people injured and dead. The city of Gori, about 20 kilometres from Tskhinvali, was also a target. The city was bombed at least 5 times and panic spread around the town. At least 5 residential buildings were left burning after being hit by bombs.
The Kodori Valley, bordering Georgia's other breakaway republic Abkhazia, was bombed at least twice. De facto Abkhaz President Sergey Bagapsh pledged to help his fellow secessionists and a general mobilization was announced there on August 10.
According to the Georgian Ministry of Internal Affairs (MIA), the Georgian side shot down 10 Russian warplanes. Russia confirms the loss of only two, and Georgian TV showed the remains of at least two planes and their pilots – one dead and two others injured. Casualties on the ground so far number 92 Georgians, according to Georgian Minister of Health Sandro Kvitashvili. According to the Russian Foreign Ministry however, about 2,000 are dead, mainly Ossetians with Russian passports.
South Ossetia is a self-proclaimed Republic. No United Nations member country has recognized South Ossetia as an independent state, and each regards the region as part of Georgia.