Ceasefire proposed, but not kept
By Mikheil Svanidze
Thursday, August 14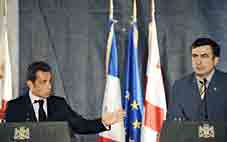 United States President George W. Bush has made a statement condemning Russian military adventures in Georgia, welcoming French peace efforts and sending Secretary of State Condoleezza Rice to France and Georgia to take part in negotiations.
"We expect Russia to meet its commitment to cease all military activities in Georgia, and we expect all Russian forces that entered Georgia in recent days to withdraw from that country," Bush said.
Earlier, President Saakashvili had accused Russia of violating the agreement on ceasefire and the non-resumption of hostilities reached between Georgia and Russia. "This is the sort of ceasefire that, I don't know, they had with Afghanistan I guess, in 1979," Saakashvili said. "There is no ceasefire, they [Russian troops] are still moving around."
The Georgian and Russian sides, through the mediation of French President Nicolas Sarkozy, had agreed a six-point plan on ceasefire and further de-escalation of the conflict late on August 11. The document is not yet signed by the sides, but both the Russian and Georgian Presidents said they agreed to the general principles proposed in the agreement, which would involve all sides, Ossetian, Abkhaz, Russian and Georgian, committing to the non-use of force. It also calls for the immediate cessation of hostilities, free access for all to humanitarian aid, the return of Georgian troops to their positions on August 6 and for the Russian side to pull its troops out of the region. A further clause, about determining the status of Georgia's breakaway regions, was objected to by President Saakashvili and the other two Presidents agreed it should be removed.
In spite of this however, at about 4 P.M. yesterday CNN and BBC reported that Russian troops had moved out of Gori but in the direction of Tbilisi. News channels then reported that they turned off and headed for Uplistsikhe, where there is an abandoned Georgian military base.
"Neither Russian subunits nor military equipment are moving towards Tbilisi. They don't have any such order," Anatoly Nogovitsyn, the Deputy Chief of the Russian General Military Staff, told Russian state news agency Interfax. Georgian officials, Deputy Interior Minister Eka Zguladze and Speaker of Parliament Davit Bakradze, accused Russia however of ordering these troop movements in violation of the principles of the agreement. Zguladze then added the convoy was approaching the village of Orchosani, about 20 kilometres from Gori in the direction of Tbilisi. Russian forces were allegedly going there to "defend the Ossetian population," as there is a minority of ethnic Ossetians living in Orchosani. About 8 P.M. yesterday, most of troops left Orchosani and moved back in the direction of Gori.
The Presidents of Poland, Ukraine, Lithuania, Latvia and Estonia visited Tbilisi late in the evening of August 11 to support Georgia at this critical time. German Chancellor Angela Merkel is to visit Georgia next week, as confirmed by her spokesperson, although an exact date for the visit is not yet set.
On August 11, the Russian and Abkhaz side claimed to have taken full control of the Upper Kodori Gorge, the only enclave within Abkhazia under Georgian control. Georgian officials confirmed this shortly afterwards; video footage showed Russo-Abkhaz forces tearing down the Georgian flag and flying an Abkhaz one on Kodori's administrative building.
At this point, there is no corridor which would enable the International Committee of the Red Cross (ICRC) or any other humanitarian organization to enter the conflict region from the Georgian side. The Messenger saw dozens of people at the ICRC office submitting lists of people who are missing or in need of assistance, mostly from villages in the immediate vicinity of Tskhinvali.
Heavy military conflict between Georgia and Ossetia started in the early morning of August 7, with Georgian forces pounding the South Ossetian capital Tskhinvali, eventually occupying it. Russian forces retook the city and advanced further into Georgian territory on August 11. Russian warplanes have since bombed strategic targets across Georgia, including Tbilisi.