Torrent of refugees surges through Tbilisi
By Shorena Labadze
Thursday, August 14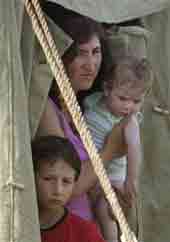 An immense flow of former residents of Gori, Tskhinvali and almost every Georgian region, who have been forced to leave their homes by Russian "peacekeepers," has dispersed to different regions of Georgia.
A thick mass of people rushed to the Georgian capital Tbilisi. Metro stations and Tbilisi Didube bus station (the main departure points for internal travel) were full of crying women and confused children on August 8, some of them not even knowing which direction to go in.
"I wanted to stay in my house, but my husband forced me to escape. I didn't want to believe what he was saying, but couldn't put my children's life at risk. So my husband stayed there and sent us to Tbilisi. Now I am trying to work out which of my relatives I can go to. With three children, I can't stay with anyone for a long time of course. I don't know what will happen to us," said Natela Tskrialashvili, from Tskhinvali, 33 as she spoke to the Messenger at Akhmeteli Metro station, carrying one little bag and three tiny boys dressed in sandals. Looking at the passers-by she said "all the Tskhinvali Georgians are here".
The
Messenger
found a family from Tianeti region which is sheltering 30 refugees from a village called Karaleti.
"I had relatives in Karaleti, and of course I urged them to come to my house. And they had other relatives who didn't know where to go. So I invited them too. How could I sleep at night knowing people with little children are wandering under the open sky? I have enough cattle to try to feed them till…I don't know when…" Nadokra village resident Badri Shetekauri said.
Almost all schools and colleges and some shops and other buildings in Tbilisi have been filled with people who fled the fighting, mainly from Gori.
"We have left everything and fled from our home. You know that Gori was a comparatively wealthy city. I am shocked even thinking that our houses are devastated. I put tens of thousands of lari into improving my house not more than 3 years ago," Gori resident Maya Kelekhsashvili told us.
Georgian TV stations have begun broadcasting reports which state that Russian soldiers have started marauding in Gori, Tskhinvali and the surrounding villages. They are breaking into houses, robbing everything.
"They steal everything they can reach; cars, minibuses, and kill anyone who tries to prevent them. The residents have been living in basements for several days and won't dare come out. Ossetian separatists are extremely aggressive towards Georgians and kill them without even speaking. They killed a wife and husband by a knife to their throat before my eyes" Gori resident Paata Tarielashvili said.
Russian "peacekeepers" have already occupied police stations and other state buildings in Zugdidi region. According to a Rustavi 2 news report, they have stolen computers and other things from the stations and conveyed them to unknown places. A middle–aged man stranded in the open air told Rustavi2 by telephone that one Russian soldier stole a minibus, called someone and told him he had young captives.
"He received his orders, then told us to sit in the minibus. There were women there as well. He was driving us towards an unknown location when one of our guys pushed him and the minibus turned over. The people dispersed. Some of us could escape, some are lost," the man said.
Near Tskhinvali an Atotsi resident told Rustavi 2 that soldiers had robbed the houses of everything and then set fire to them. She said they had rounded up people and were holding them captive.
TBC Bank has declared it will donate GEL 5 million in humanitarian aid to help the children of killed soldiers and refugees, regardless of their nationality or ethnic origin.