Good News: Georgia has Olympic Champions Two golds in one day
By Eter Tsotniashvili
Thursday, August 14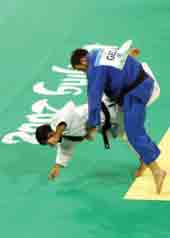 Georgia won two gold medals yesterday at the Beijing Olympics. Manuchar Kvirkvelia won the first, in the Men's Greco-Roman Wrestling 74 kilogram weight class, defeating China's Chong Yongxiang. The second was won by Irakli Tsirekidze in the Men's Judo 90kg class, who reached the final by defeating Russia's Ivan Pershin by hold down. In the final he beat Amar Benikhlef of Algeria with a shido.
Georgia first participated as an independent nation at the Summer Olympics of 1996, held in Atlanta, in the US Georgia. Georgian athletes however competed as members of the Soviet Union team between 1952 and 1988, and as part of the Unified Team at the 1992 Olympics in Barcelona, Spain.
As an independent nation Georgia has relied on weightlifting and the contact sports of boxing, judo and wrestling to provide its medals.
Judoka Zurab Zviadauri claimed the honour of being the independent country's first Olympic gold medallist when he won the 90kg category at the 2004 Games in Athens. Weightlifter George Asanidze, Georgia's most successful Olympic athlete, also became an Olympic champion for the first time in Athens, adding a gold medal to the bronze he won at the 2000 Games in Sydney, Australia.
Georgia now has two gold and one bronze medal. Nino Salukvadze took bronze for Georgia in the women's 10m air pistol shooting event.
In addition to their much-prized medals, any Georgian Olympic champions will receive GEL 1 million from the Georgian government when they return to Georgia.