Diplomatic efforts continue as Russian forces fail to leave
By Mikheil Svanidze
Friday, August 15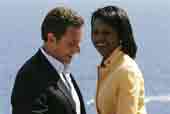 Strong diplomatic efforts continue to ensure that the shaky ceasefire in Georgia will become a definite one, as Russian forces continue to loot Georgian settlements.
US Secretary of State Condoleezza Rice, as instructed by President George W. Bush, arrived in France yesterday to hold talks with French President Nicolas Sarkozy. She was scheduled to fly to Georgia later yesterday.
In the meantime, Russian troops have not entirely kept to their obligation, expressed in one of the clauses of the ceasefire agreement, to "withdraw to the lines held prior to the outbreak of hostilities." The Russian military has not left the Georgian town of Gori. Cases of looting and the terrorizing of the remaining local population have been reported, and Georgian police were not allowed into the city.
Georgian TV stations have shown videos of Russian soldiers carrying large packages of supplies as they invaded the Senaki military base. A low-quality video showed Russian soldiers walking around a Georgian barracks destroying the facilities, and cursing Georgians who, as opposed to Russian soldiers, lived like "gods" in their estimation.
Georgian officials reiterated that Russian forces will not stay in Georgia. "They [Russian troops] had planned to remain [in Georgia], but did not succeed," Deputy Interior Minister Eka Zguladze said yesterday at a briefing.
Eduard Kokoity and Sergey Bagapsh, the two secessionist leaders, signed the six-point ceasefire plan proposed by French President Sarkozy in Moscow, in the presence of President Medvedev. The clause regarding the status of the two regions has been amended following objections by the Georgian side. This now states that the plan requires its signatories to "Open international talks on the security and stability arrangements in Abkhazia and South Ossetia." Medvedev stated however, that he would be willing to support "any decision the South Ossetian and Abkhazian people make." "The Russian stance is unchanged – we will support any decision the South Ossetian and Abkhaz people will make… and not only support, but guarantee [the decision]," Medvedev said yesterday.
Russian Deputy PM Sergey Ivanov has also made it clear that Russia now only supports Georgia's sovereignty and not its territorial integrity. Speaking on an evening talk show on the BBC on August 12, he implied that Russia could support secessionist South Ossetian and Abkhazian independence. He also mentioned "previous referendums" the South Ossetians and Abhkaz de facto administration conducted. "In fact, there had already been three referendums before this war in which they [South Ossetians and Abkhaz] declared they want to be independent. After what's happened, I strongly doubt that Ossetians or Abkhazians would change their view," Ivanov said. In a November 2006 referendum, over 99 percent of South Ossetians residing in the territory voted for independence. Previous referendums were held in 1992 in South Ossetia and in 1995 in Abkhazia, and in both cases, over 97 percent of the population voted for the independence of these secessionist regions. Neither of those referendums was officially recognized by any country.
The Georgian parliament has unanimously voted for the withdrawal of the country from the Commonwealth of Independent States (CIS), a decision made by President Saakashvili on August 12. The CIS is a largely Russian-led organization consisting of most of the former Soviet states, with the exception of the three Baltic countries. Georgia joined the Commonwealth in 1994, two years after its creation. President Saakashvili and other Georgian officials have repeatedly claimed they would leave the CIS, but have always stopped short of this before.