No singing in the shelters
By Shorena Labadze
Friday, August 15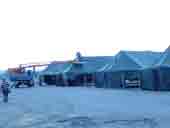 To show their spiritual and ideological unity, and express their solidarity with Georgian soldiers who have died on battlefields throughout Georgia, Georgian people gathered in front of Parliament shouting patriotic slogans and words almost like an SOS. These words were: STOP RUSSIA!
But while Georgian singers, actors and other prominent public figures thought they were supporting the people who have lost homes or relatives by organizing this action, people fleeing from the bombed regions said "the Georgian people held concerts while we endured this disaster."
"When they should have mourned, they held concerts. What kind of solidarity is that?! I can't understand! It's awful!" refugee Manana Utiashvili from Avnevi said.
The Messenger has visited different places where refugees are sheltering. Based on our observation, the government representatives are saying one thing and the people escaping from war zone are saying another.
On August 13 it was aired a report about a so-called "city of tents" located near Tbilisi airport. In fact the situation is worse than this implies. There is no "city." There are only tents and bio toilets and nothing more. The people lie on bare asphalt with not even a chair to sit on.
"Nobody from the government has come here. We have been here from early morning but have seen no one but curious people. We have received only a small amount of tinned food and that's all. How long must we left here be under the open sky?!" a crying Eka Tsitsagi, with her two little girls, told the Messenger.
According to the refugees they had only 15 minutes to empty their homes. They couldn't even change their clothes. "My husband rushed into the house saying we were going. I even forgot to take any money. But my greatest concern is one sight I will never forget: A little boy was crying in the shell of a destroyed house asking for help but we couldn't give it. We were running ourselves and helping him would need more time than we had. I don't know. Even if he isn't trapped in the ruins, he will die of starvation," Mariam Tsitsagi from Gori said.
The people said that they had sheltered soldiers who had fled from the Russian peacekeepers and separatist Ossetians who were automatically killing any soldier they came across. "We hid them in our houses, then gave them civilian clothes and let them go in secret. I have no boys in my family. I gave my girl's shorts to a soldier and he fled with them," Natela Mujirishvili said.
Mujirishvili also confirmed that when Russian and Kazakh soldiers could not make out whether Georgians they saw were soldiers or civilians, they ordered them to take off their clothes and checked their shoulders. If they were red, they shot them or beat them to death. "One Georgian soldier showed me his elbows. He had no skin on them. He said he had crawled along the ground for 7 kilometres. He said he had been fired on by both sides at once, by Ossetians from one side and Russians from the other," she said.
The men at the tent camp said the Russians had mined the whole of Gori. They didn't know whether they would dare to return there even if they could. "I am afraid for my children. Even now I don't know whether this distress will leave a permanent mark on their health. Even a small noise makes them panic," Nodar Asatiani from Gori said.
As Gori's now former residents say, Russian soldiers have robbed Turkish lorries, emptied them and are loading them with furniture and precious items. "If they can't take things away, they simply smash them. Even toilet pans are shattered to pieces. But I don't care. If only I could return there. I would accept just the walls of my house. I don't need this food and these clothes. I would gladly starve if only I could go home," Nato Guliashvili, from Kemerti, a village near Tskhinvali, said.
The Finance Ministry building is now a haven for 500 refugees. They do not even have water to drink. "No one from the government has come here, though we have received food. It is mostly the people living near here who help us. We need money first of all. And I want to ask our officials to produce some kind of document with which I would be able to travel by public transport as we do not even have change to spend," Tamar Davlashelidze from Kemerti said.
We visited a kindergarten called Chiora too. This is full of refugees sharing the various rooms.
"We finished repairs on August 7 for the beginning of the school year and the same night the refugees came. 300 children used to attend this nursery school and 55 teachers with large families have been left without work," Chiora director Eka Makaridze told the Messenger.
MP Koba Subeliani is calling on volunteers to come to the place from where humanitarian aid will be distributed. "We have everything, but we have little time to distribute it. The country has a great many supplies of every kind at the moment. There is nothing to worry about in this direction," Subeliani said. Georgia has received humanitarian aid from the USA, Lithuania, Latvia, Greece, France, Czech Republic and other countries. Many Georgian businessmen have also contributed money and other humanitarian aid for refugees.