Aid arrives from all over
By Shorena Labadze
Monday, August 18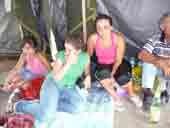 A torrent of humanitarian aid is arriving in Georgia. It floods in daily from the USA, Turkey, Jordan, Ukraine, Greece, Poland, Latvia, Lithuania, Estonia, Italy and many other countries.
The USA sent its first humanitarian aid on August 13, comprising medicines and other personal necessities worth USD 900,000. Georgia's Health Care Minister Sandro Kvitashvili, US Co-chair of the OSCE Minsk Group Matthew Bryza and the USA's Deputy Ambassador met the cargo. Georgian people greeted Bryza and the USA's aid with chants of "Long live USA". The USA's action has been repeated several times since then, and the American government has set aside USD 3 million for aid for Georgia.
President Bush also instructed his Defence Secretary, Bob Gates, to begin sending assistance to Georgia by air as well as by sea, and expressed the hope that Russia would not prevent the aid reaching Georgia. Hardly had Bush finished his speech however when Russian MFA spokesman Andrei Nesterenko said that conveying the cargo by sea wasn't "the best decision". Nevertheless, the aid efforts continued. On August 14 goods were loaded onto Ukrainian, Jordanian and Lithuanian planes. These included medicines, food and everyday domestic items. Armenia will also make its contribution. 5 consignments of cement and other building materials will enter Georgia from August 18 onwards. Skilled bridge engineers and constructors will also be sent to Georgia. "Armenia was, is and will always be beside Georgia," Armenian singer Nana Poghosians said.
According to current data there are about 60,000 refugees in Tbilisi sheltered in approximately 500 buildings. MP Koba Subeliani says that there are about 120,000 refugees in different regions of Georgia who have fled from Kodori Gorge and the Tskhinvali region. This number doesn't take into account the IDPs from Upper Kodori who have sheltered in Western Georgia. According to official data 2,645 electors lived in Upper Kodori, but this figure does not include residents under the age of eighteen. Most Georgians had left Kodori, the only territory in Abkhazia which was controlled by Tbilisi, before Russian occupants and Abkhaz separatists managed to take control of it on August 12. UNHCR announced that its personnel had saved more than 700 people from Upper Kodori Valley.
UNICEF and its partners have distributed hygiene kits and bottled water to 3,600 displaced women and children in and around the Georgian capital, Tbilisi. UNICEF, and other international humanitarian agencies, are currently conducting rapid assessments to identify the scale of problems and the most pressing needs of affected people, including children.
The agencies are currently concentrating their efforts on delivering hygiene items and nutritional supplies for children as well as trying to provide affected populations with drinking water and access to sanitary facilities. 100 tarpaulins, 500 hygiene kits and supplies of blankets and other items are now being distributed. In addition, 500 school-in-a-box kits, 500 recreational kits, 600 basic family water kits, 3,000 emergency drinking water kits, 5,000 packs of water purification tablets, 30 water tanks (which can hold 10,000, 5,000 and 1,500 litres) 1,250 jerry cans and 18 water distribution ramps are en route to Tbilisi from the UNICEF Supply Division in Copenhagen. The aid will be sufficient to satisfy the short term needs of approximately 6,000 affected families.
"We need to resume normal childhood activities for children and to ensure that protection mechanisms and health standards are in place for them," said Benjamin Perks, Deputy Representative of UNICEF in Georgia. The agency is also planning to support psycho-social services for internally displaced children and to ensure that children have access to education when schools re-open in September.
On August 15 the spiritual leader of all Georgia, Catholicos-Patriarch Ilia II visited Gori. A crowd of people and ecclesiastical figures met the Patriarch there. Patriarchate representatives also brought humanitarian aid with them. Father Andrea, priest of Tbilisi's Mukhiani Church, says that this event was just one more miracle which has occurred during the past few days. "Russian soldiers turned pale when they saw the Patriarch. They couldn't say a word," Father Andrea said.
On August 16 Georgia's President Mikheil Saakashvili met people who have escaped from different regions of Georgia and promised Georgia's government will be able to rebuild Gori and other places devastated by Russian occupiers. "I want you to know one thing - We'll renew everything; we'll rebuild better cities, better houses and it will happen very soon, not "whenever". As soon as they leave Georgia, we'll begin renewal activities. We'll build the kinds of cities and villages which won't have precedents in the whole world," Saakashvili said. After attending a meeting with Georgia's President on August 14, Turkish Prime Minister Recep Tayyip Erdogan commented that Turkey will continue sending humanitarian aid to Georgia and will "fully participate" in rebuilding the destroyed cities.
Bank of Georgia has also held a surprise event for refugee children at McDonald's restaurant. At its own expense it treated refugee children to food and amused them with a show.