Our journalist is back
Monday, August 18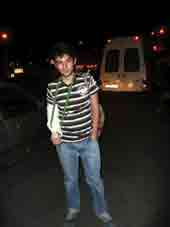 Temur Kiguradze, a leading
Messenger
journalist who was wounded in Tskhinvali, returned to Tbilisi on Saturday evening.
Temur left for the conflict zone on the afternoon, of Friday August 8, together with American citizen Winston Featherly, editor of our paper. They were missing for two days until we received information that they were in Vladikavkaz.
Winston Featherly was operated on at the Vladikavkaz military hospital and later, after the involvement of the US Embassies in both Georgia and Russia, was evacuated to Moscow. Temur Kiguradze's situation was more difficult. It was proposed that he return directly to Georgia, but this proved difficult as a hostile mob could have threatened his life. Thanks to the involvement of some NGOs, the Georgian Embassy in Moscow and its Consul Zurab Pataradze, Temur was eventually granted permission to leave Russia and flown to Yerevan via Minvodi. He has a wound in his right hand, which Georgian doctors checked yesterday and said should be operated on.
The
Messenger
is grateful to all individuals and organizations in Vladikavkaz and elsewhere, and in particular Georgian Consul in Moscow Zurab Pataradze, for their assistance in rescuing our journalist.