'Patriot Act' - Saakashvili's new initiative
By Eter Tsotniashvili
Monday, September 1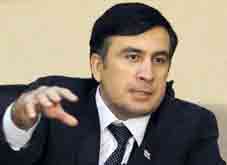 Georgian President Mikheil Saakashvili has asked Parliament to draw up and adopt a Patriot Act, which will guarantee that Georgia develops structures which will safeguard democracy, freedom and the further development of the media to prevent destabilization by foreign countries.
Saakashvili said that the government is ready to actively cooperate with the opposition, and proposes establishing a joint anti-crisis centre, where opposition representatives as well as civil society will play a role. He says that the main function of the anti-crisis centre will be to manage the assistance the country receives and how it is distributed.
President Saakashvili highlighted that Russia no longer hides the fact that it wants to overthrow the Georgian leadership and is therefore going to get involved in internal Georgian politics. According to Saakashvili, the Government has made a decision to finance political parties from the state budget. "We should finance our political parties and impose strict controls to prevent any funding coming from foreign countries - I mean from one particular country," he said, and added that they will manage to carry this out within the framework of a democratic society. "We will not limit democracy, no matter what happens. Our main force is in freedom and democracy - everyone saw that we did not turn off any single opposition channel, we did not close any opposition newspaper and we did not limit anyone," Saakashvili stated.
Some opposition leaders have already responded to Saakashvili's statement and stated that they would welcome the restoration of financing political parties. "I welcome this decision to restore financing for political parties as a first step towards getting back to democracy," Leader of opposition party The Way of Georgia Salome Zourabichvili said on August 30, adding that she also like the idea of an anti-crisis centre.
Saakashvili sounded these initiatives in the Black Sea town of Poti that is being held by Russian forces. On August 29 in a televised speech Saakashvili, who had met local officials, once more condemned the Russian aggression in Georgia and stressed that Georgians are heroes because they are standing firmly and do not leave their jobs while the "barbarians" attack. The President also talked about the support of the international community and civil society and said that no one would ever support Georgia if it were not for Georgian peoples' unity.
The President also made a comment on today's EU Emergency Session in Brussels where Europe will decide what kind of sanctions should be set against Russia. Saakashvili condemned Russia's aggression and said that the only thing Russia had gained is that the Abkhazia issue, which was only Georgia's issue before, has now become a vital issue for the whole civilized world. He said that no one agrees with the shameful decision Russia has made [in recognising Abkhazia and South Ossetia as independent] and thanked China for their strong position.
The Georgian President also highlighted that now the ongoing fight is not between Georgia and Russia. Some time ago everyone was saying that Georgia's territorial integrity was an internal problem, but now "it is the fight between civilized and not-civilized approaches, the fight of whole international community, the fight between the peoples of good will and those who do not care for the world."