September 1, from Live Chain to the Day of Unity
By Eter Tsotniashvili
Tuesday, September 2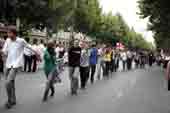 Georgian President Mikheil Saakashvili declared September 1 the Day of Unity.
In his address to the Georgian people at Freedom Square Saakashvili appealed to Georgians to stand together. "Georgia is united as never before… We are proud of our past and the unity that the Georgian people have expressed recently. Let me declare September 1 as the Day of Unity, when Georgia stands together as never before," the President said. Saakashvili also addressed the European countries gathering for an EU emergency session in Brussels as he was speaking. "I want to tell Europe: look at this huge number of people; now is the time for Europe to extend its hand to Georgia," he said.
Around a million people took part in the Live Chain in Tbilisi alone.
"We should tell the world that Georgia in united," Saakashvili said, and highlighted that Georgia is the country that can bury Russian imperialism. "This brutal force, these hordes that entered Georgia, decided to launch a revival of Russian imperialism," Saakashvili stated. "Not only did Russian imperialism fail to prevail in Georgia, but the very idea of Russian imperialism will be buried once and for ever in Georgia; the empire will not be revived; Georgia will resist this."
A peaceful demonstration under the slogan "Stop Russia" drew tens of thousands of people to Tbilisi and other cities. People gathering in the central streets of the capital stood hand in hand in a live chain against Russian aggression. Georgian administrators, artists, singers and many famous faces stood next to ordinary people to demonstrate their one will - to make Russia leave Georgia.
The demonstration symbolically began at 15:00, exactly when the EU emergency session in Brussels where sanctions against Russian aggression in Georgia would be discussed was due to start (by local time). Exactly at 15:00 the bells rang in the churches. The idea of the live chain came from the Catholicos-Patriarch of all Georgia Ilia II as a symbol of Georgian unity and protecting the homeland from Russian aggression.
"We are the strongest nation, we all are standing together today and ask Europe and the whole world to see us and understand who the Georgians are. We ask them to protect us from the Russians, from killers who try to destroy our country. They will never reach their goal, we Georgian people promise it," 22 year-old student Nika Revazishvili told the paper.
"We want freedom; we want to live in a peaceful country where my family and I will be protected from such aggressors. That's why I came here with my family to show everyone that Georgia is united," Neli Jokhadze said, standing in front of the Russian Embassy with her two small children. One of them, five year old Mariam, was running around shouting "Stop Russia" in English.
The 'Live Chain' in the capital linked Freedom Square, Rustaveli Avenue, Melikishvili Avenue, the Vake-Saburtalo road, Kazbegi Avenue, Pekini Street, Baratashvili Bridge, Avlabari and Sameba cathedral. Outside Tbilisi similar live chains were formed in all the big towns of Georgia. In Kakheti one ran 40 kilometres in length from Telavi to Gurjaani, while others were formed from Gori to Karaleti, in Rustavi, from Rikoti tunnel to the village of Khevi, from Zestaponi to Etseri, from Kutaisi to Partskhanakhanebi, from Samtredia to the village of Marani, in Poti, Senaki, over Enguri Bridge, from Sarpi to Choloki and so on.
Live Chains were also formed at the same time in other European capitals where Georgians live, and people of other nationalities also joined these. More than 1,000 Georgians went to Brussels to conduct such an action, arriving from Holland, France and Germany. According to one of the organizers of the protest action, Marekh Togonidze, Georgians were joined by Chechens and Ingushetians living in Europe. "We decided to hold this event after hearing that the EU Emergency session was to be held on September 1," Togonidze said.