Russia closes its Embassy in Georgia
By Eter Tsotniashvili
Thursday, September 4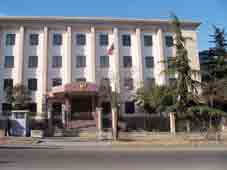 Russia has closed its Embassy in Georgia and suspended consular operations after the Russian envoy was officially notified by Georgian officials on September 2 that diplomatic relations with Russia had ceased.
The Russian envoy to Georgia Andrey Smaga was called to the Georgian Foreign Ministry where the official note was handed over, officially informing him of the decision of the Georgian Government. As a result of the decision, the Russian Embassy in Georgia will no longer operate.
Russian diplomats, including the Ambassador, Vyacheslav Kovalenko, will leave Georgia in a few days. Alexander Savinov, a Russian Embassy representative, states that the exact date they would leave was not yet known. "That's a purely technical issue," he said. Other Embassy staff declined to make any comment. As they declare, "we are no longer employees of the Russian Embassy, as this no longer exists. Thus, we are unable to make any comment."
Georgia has closed its Embassy in Moscow, but the Georgian Foreign Ministry said it will maintain a Consulate there with a Consul, two Vice-Consuls and technical staff. Georgia will tighten visa rules for Russian citizens; Russian citizens will no longer be able to obtain Georgian visas upon arrival in Georgia. Citizens of Russia will be able to obtain entry visas to Georgia only at Georgia's diplomatic missions and consular offices abroad after submitting an invitation for a family, business or humanitarian trip.
The first result of the closure of the Embassy has already been seen. Russia's Federal Migration Service (FMS) has released an announcement that Georgian citizens, who are currently in Russia and whose visas are about to expire, should leave the country. An FMS official has stated that "visas will be extended only for 10 days, but only in cases of "force majeur. In case of illness or other type of force majeur situations, as envisaged by Russian law, the FMS can extend a visa for ten days," Alexander Aksenov, head of its Visa Unit, stressed. The Russian Consulate in Georgia will now consider visa applications only from those who applied before September 3.
The diplomatic break is the consequence of the war between Georgia and Russia and Moscow's recognition of Georgia's two separatist regions of South Ossetia and Abkhazia as independent states. Russia has described cutting diplomatic relations between the two countries as "one more mistake from the side of Georgia, not aimed at regulation and normalization of the situation."