Cheney condemns Russia, supports Georgia
By Temuri Kiguradze
Friday, September 5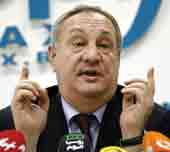 Abkhazia is preparing to become an offshore zone. As the Georgian breakaway region's de facto President Sergey Bagapsh announced at a briefing on September 6, quoted by Russian news agency RIA Novosti, "Abkhazia has everything needed to become a free economic zone."
"I pity Abkhazia for this decision," says Georgian economic analyst Gia Khukhasvili. Speaking to the Messenger, Khukhashvili explained that a free economic zone provides beneficial conditions for foreign business. He thinks that this may be a very effective to develop the region and quoted the example of Russia's province of Ingushetia, where the creation of an offshore zone in the 90's led to serious improvements in its economic situation. He also said that creating a free economic zone was one of the proposals the Georgian side put forward during the attempts at peaceful resolution of the conflict. "However the political status of the region [Abkhazia] is not defined and civilized businessmen will hardly risk putting money there." Khukhashvili is sure that Russian businessmen will most likely be the only ones who will operate in Abkhazia.
At the same September 6 briefing, Sergey Bagapsh announced "a major agreement on friendship and mutual assistance" which will be signed in Moscow in the next few days. He ruled out the possibility of dialogue with Georgian President Mikheil Saakashvili, calling him a "political corpse." Bagapsh also stated that Abkhazia wished to join the Commonwealth of Independent States (CIS). No CIS member country, except Russia, has recognized the independence of Abkhazia.
Georgia, supported by the UN, EU and USA, has declared that Abkhazia and South Ossetia are territories "occupied by Russia." They have been recognised as independent states by only two countries - Russia and Nicaragua.